' + ' or ' - ' . Do you rate?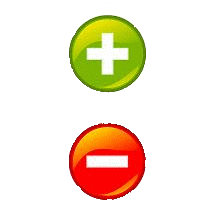 Pakistan
January 9, 2008 5:59am CST
Do you rate responses of different users? If yes,the what is the phenomenon by which you judge those responses? I mean what do you search in the reponses, Do you go for good answer regarding the topic or you like the ones which match your thoughts? I think most of the users don't rate (I am not perfectly right, I guess). Should every body rate responses? What do you guys think....?
6 responses

•
9 Jan 08
We should, least in my opinion. It's a nice way to acknowledge someone who takes the time to follow and respond to my discussion. I always + unless someones rude or offensive, especially when you get those who can't discuss anything. Generally I don't have to use the - ~Joey

• Pakistan
9 Jan 08
Thanks for your response (+)ve for you


• Pakistan
10 Jan 08
So you go for the comedians....hehe....LoL....Thanks anyway

• United States
9 Jan 08
I just give the plus if they are friendly. Even if it's a one-word answer, I still give a plus, because they're not being negative. But if someone is being rude and harassing people then I give the negative. There is no reason for that.

• Pakistan
11 Jan 08
Well you may be right. Most of the users do not rate. As for me, I am here after an interval of almost six months. Therefore, I have not rated in this period. But whenever I rated before this, I always look for the good responses and the content. I do not appreciate one line answers and the responses of that offend. Also it is necessary that I like the ones which match my thoughts. I have also rated some best responses thos ewho do not agree to my point of view. What about you? You have not discuss about yours thoughts.

• Pakistan
11 Jan 08
I agree with you all...So combine all the responses you'll get my answer

• Philippines
9 Jan 08
Yes. I do rate responses. We have to for me. I really find time to rate discussions and responses which I think deserves being rated as (+) or (-). As what mylot stated in its guidelines, we should first read responses from others before we make our own. That is to prevent multiple or similar responses. But there's a lot of members here. So no wonder why people have similar or matching thoughts with the other. How I judge responses? Simple. I choose responses which give more details rather than answering a discussion in direct. In some cases, I rate (+) to short responses that goes straight to the point. And those who I think answered rudely or violated something, not only will I rate em (-) but even report their violation to mylot. - Happy postings! :) (+)

• Croatia (Hrvatska)
9 Jan 08
I judge responses by usefulness. If someone's been useful to me I give him a plus rating. I don't give out minuses if it isn't necessary.