Holiday gifts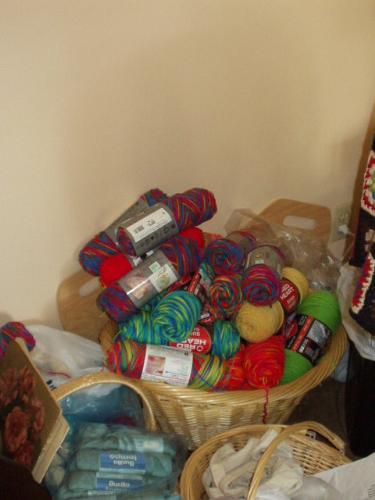 United States
6 responses

• United States
9 Jan 08
I didn't get what I wanted - I wanted nothing and ended up returning what I did get. BUT!! Thanks for reminding me about Project Linus. I meant to look it up a couple years ago and totally forgot about it!

• United States
9 Jan 08
There are several people in our church who meet on a monthly basis to make the no-sew fleece blankets for Project Linus. We are funded by contributions from the congregation and have a great time making them. A couple of us crochet afghans to add to the stack of blankets. We do about fifteen a month. I hope you enjoy Project Linus as much as I do.

• United States
9 Jan 08
How sweet. I got what I wanted for Christmas witch was a Cross Stitching frame That is free standing that I can adjust the heighth on and a new ipod to listen to while I stitch. I had to look up project Linus, but I think that is very kind of you to crochet afghans for that charity. As part of my new years resolutions, I am going to start volunteering at the local humane society.

• United States
9 Jan 08
Good for you! I think that it is important that we do whatever we can to make a positive difference in the world. Sometimes people think that just one person can't really make a difference. But just like Niagra Falls is made up of lots of drops of water, each of us counts in changing the world for the better.

• Canada
9 Jan 08
i got a new mattress set!!i love it!im now having the most comfortable sleep ever!:)

• United States
9 Jan 08
Wow. What could be better than the gift of restful sleep?

• Canada
9 Jan 08
Yes I did! The gift I most wanted...and received was that my hubby DAvid's health and well being would be restored...and it has been. For the last two years he has been going through a rough time and thankfully with his own commitment to his healing journey, a lot prayer and energetic support and a good team of doctors he has come through all of it stronger and healthier than ever. I also received the gift of inner peace this holiday season...and I have been seeking that for most of my life. I had tastes of it...but then there were more layers to peel back. With much joy I am grateful to be where I am at this stage of my life. My birthday is New Year's Eve and I had the best birthday so far! With all the wonderful spiritual aspects fulfilled I was grateful when David and a gal pal arranged a small gathering for friends to celebrate my birthday and how far we have come since this time last year. Yes, there were lovely gifts...but the essence of the experiences were the most significant aspect of this holiday season. Having said all this I did get one thing I really wanted...from David. I do telephone counseling and needed a comfortable chair to sit in while talking to clients. He bought me a lovely, big gold yellow leather wing back chair that rocks..and I love it. So do our cats when I am not sitting in it. It is good to hear you received what you wanted as a holiday gifts. Shows your friends and loved ones hear what you say and do their best to meet you at your point of need. That's what makes the holidays special...reminders of who and what we love. Raia


• Canada
22 Jan 08
Hi again...liked this discussion and appreciate the best response! Thanks my friend!