Nespula-very nice fruit from my garden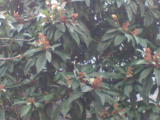 Croatia (Hrvatska)
January 9, 2008 3:26pm CST
Hello Dear Friends, Today i looked at my Nespula fruit tree and i told my daughter that i would like to write about jam and cakes with nespula fruit but we cant find a name of this fruit on English language!!Her is a photo of nespula tree and if you recognize a tree or fruit please help me with name for it!!Thanks!!The Latin name for this fruit is eriobotrya japonica!!!
5 responses

• United States
9 Jan 08
It is a member of the Rose family as well. I found this on a site I frequent for my gardening. http://davesgarden.com/guides/pf/go/2321/ Loquats are small tender trees (to 25 feet) with symmetrical and compact crown. They have many admirable qualities including smooth evergreen foliage, fragrant flowers, and delicious fruit. They're very easy to grow from seed, and bloom from October to February in Florida (U.S.), some years they may rebloom in late summer. The large leaves are about 10" long and are a deeply textured dark green on top while the bottom surface is light green and slightly fuzzy. As with other Photinias, new foliage on some species is an attractive rusty red. The scented, fuzzy white flowers grow in terminal clusters, and are followed by small, edible yellow fruits. Provide plenty of water and good drainage when young. However, once established, this tree is drought resistant. Full sun, adequate water and mulch will keep the Loquat tree exhibiting its best form and fruit. It can also be successfully grown in shady areas but flowering will be reduced. Loquat fruit can be enjoyed fresh, dried or in jams and preserves. Ripe fruit will also attract many kinds of birds while the fragrant flowers never fail to attract bees. HAPPY POSTINGS FROM GRANDPA BOB !!~


• Canada
14 Jan 08
Hi there. I would say that it looks like some kind of plum. We do enjoys plums and all kinds of fruit and berries here and love making jams. Looks yummy ENJOY! Your friend Vicki

• United States
11 Jan 08
We have always had these trees in our yard no matter where we lived in Florida. I think my kids lived on them for lunch sometimes when they were too lazy to to come in to eat. I like your name for them. Nespula. We have always eaten them as fresh fruit and as dried fruit. I was never much for making jam but I did dry a lot of fruit. I live in an Apt. complex now and I sneaked in a tree when I first moved in. No one here knows what it is so I eat all the fruit. They do not seem to be interested in it. They do not even eat the wild lemons or oranges on the other part of the property. Since it is not sprayed, it looks funny and they think there is something wrong with it. But that is just the way the wild fruit looks. I like it. You have to pick the oranges when there is just a thin yellow circle around the bottom and the rest is still green for them to be sweet. When they turn yellow, they are sour and you have to squeeze them and make orange~aid with sweetener. Shalom~Adoniah

• China
10 Jan 08
Hello dear aajdjs. I am sorry to say that I cannot recognize the fruit tree in spite of my trying to help. I hope that you will get some very helpful responses for the name of the fruit or the fruit tree. Good luck, my dear friend.