Read me =]

United States
7 responses

• Canada
10 Jan 08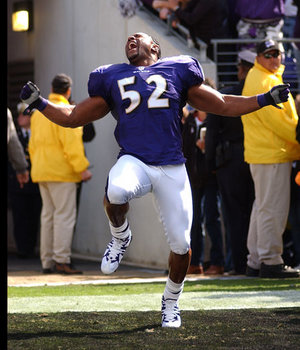 I'm addicted to football. We got the NFL package so we get all the games and Sundays we switch back and forth between the games. Favorite part is just cause I like football. Favorite teams Baltimore Ravens and Green Bay Packers. The worst team ever New England Patriots. If I hear one more thing about Tom frigin Brady being the all time greatest QB I'm going to scream. I can't stand that guy and hate him with a passion. I love Baltimore as I love Ray Lewis. He's such a motivator to the team and sure gets pumped up through the games. He keeps the guys on their toes and to push. Not to mention he's a hottie. LOL:)

• United States
10 Jan 08
Haha yeah I dont like him either. Do you like peyton manning?! :) :) :)

• United States
10 Jan 08
The NFL package is the best thing in the world. I just let the Red Zone Channel do all the work, never see one commercial. A few weeks this year I was stuck out of town on Sunday & I was pissed, I had to watch the Jags one week and the Saints another AND had to watch commercials. The Red Zone Channel spoils you real bad.

• Canada
10 Jan 08
Yes I do like Peyton Manning. He's not C***Y like Tom Brady is and I think he has the respect and admiration from his fans.


• United States
12 Jan 08
okay well if it is between my wife and I, she is the one to know more about football than me. I don't know the teams or rules. Hell she laughs at me because I get big games mixed up. I watch fights, like Pride FC or UFC. Luckily so does she, so we are okay. My wifes fave team is the Cowboys. We live by Philly, naturally that is our least fave. lol. But really we are not big fans. sorry.

• United States
12 Jan 08
My favorite parts are the back and forth games or games where there is real strategy being executed. There are a number of times I don't see it. Worse than that there are moments where a good /facepalm and /temple rub occur. I don't really have a favorite team but am partial to the Ravens and the Browns. If you really want to know its my little brother and my uncle who've formed an almost pseudo religion around the Browns (much to the chagrin of my dad and my cousin who like the Steelers and Bengals).

• United States
12 Jan 08
September through February it is easy to find me on Sundays, I'm sitting at home watching the games. I used to have NFL Sunday Ticket but I no longer have DirecTV. I miss being able to watch any game. My favorite part is all of it, strategy, the playmakers, trash talking, you name it I love it. I'm a Dolphins fan and even though they had a horrible season I will always be a Miami fan. Been that way since I was little. Not to mention they are going to be amazing once Bill Parcels rebuilds them. My least favorite team, New England! And I am not just saying that because of the "dynasty" I hated them before they went on this run. I've never liked any other team in Miami's devision so by default I despise the Patriots, Bills, and Jets.

• United States
10 Jan 08
I used to be a huge Redksins fan as a kid. Unfortunately from getting too involved with football gambling in the past it changed me a lot (I guess I'm an independent now). Now I like watching any NFL team with play makers offense of defense. The Bengals when they are in tune is one of my favorites to watch. The Bears D (not this last year) also another must watch when they are dominating. PS- Real cool football pix you have.

• United States
11 Jan 08
My favorite part about football is the strategic part. Run or pass? Blitz or sit back? Punt or go for it? and also because it is physical. My favorite team is the San francisco 49ers which is a little sad to admit to right now lol and my least favorite is the Dallas Cowboys. I am a Niners fan because I am a Bay Area native and I hate the Cowboys because their "America's Team" label drives me nuts. I love to hate the Cowboys.

• United States
11 Jan 08
My favorite team is the Washington Redskins,so of course my least favorite team is the Dallas Cowboys. I was born in Washington,DC,raised and still live in northern Virginia.And so,I naturally grew to love the Redskins.And as long as I can remember there has always been a rival between the Redskins and Cowboys.So,that's my reasoning.Plus there are some guys on the Cowboys that have attitude problems that I can;t stand.