Who Do You Want To Win "Celebrity Apprentice?"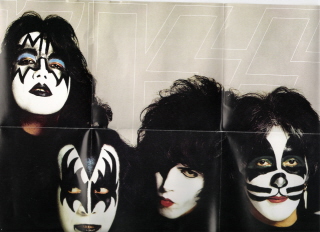 United States
January 10, 2008 4:24pm CST
I have to say, I'm not a big fan of reality shows and am more of a sitcom, ER kind of viewer but when the Apprentice came on I got hooked. This time it's the celebrities playing for their favorite charity. Who would you like to see win this? I'm hoping it's Gene Simmons because I've been a fan since I was a teenager. My daughter laughs at me and says "Mom, you're so weird that you like him!" LOL! But I do and would like to see him win.
3 responses

• Canada
10 Jan 08
My money is on Gene Simmons. I was never a big fan of Kiss's music but his marketing genius behind the band was incredible and just watching him on his reality show you can see how savvy his business senses are. Go Gene Go!

• United States
15 Jan 08
I don't know much about the others involved, or the charities. I've seen one episode. I like Gene Simmons. I just don't want it to be Omarosa

• United States
16 Jan 08
I don't want it to be her either. I don't know why the heck she's on there. All the other people are big time celebrities and she's not a celebrity at all. The only reason people know heris because she was on that 1 season of the Apprentice and she was a b
@
*#*h and she lost and she did whatever she could to get out of work like when she had that little piece styrofoam fall of her head. I mean, come on it was styrofoam and it was a tiny piece that had to wiehgh less that 2 ounces and couldn't have hurt an infant. She went and acted like a total drama queen like it was a peice of plster or something and she went to the hospital they said there was absolutely nothing wrong with her not even a bump or a scratch. Duh, because it was a piece of styrofoam a little bigger than a few of those popcorn pieces they use for packing. Now she thinks she's some big celebritiy. All the rest did huge things for their careers and the only thing she did was what she acted like on the Aprentice and like I said she was hated, bad at it and lost by a long shot. Go Gene. Actually I wouldn't care who would win as long as it isn't her because she doesn't deserve it because , again she's not a celebrity or even important.

• United States
13 Jan 08
Hmm thats a tough one. I dont have a favorite. I love that show though it is SO good.

• United States
10 Jan 08
I have not decided who I would like to win yet. I have not heard all of the differenent charieies they are playing for I usually route for the person playing for the charity I like the best. I will keep watching and deicde later.