People on African poor countries ... they really need help ...

Croatia (Hrvatska)
October 29, 2006 5:37pm CST
Some people thinking that African poor countries must get destroied, they think that every poor human there is an animal, I think they are so mean, and that anyone can be like those poor people, is I can I will do my best to support them and my first project will be a website that talks about africa and how they are nice people even if worms eating their bodies while they can't even move their hands to throw them away ...
5 responses

• United States
17 Nov 06
When I first read your question, I thught "Who would consider someone an animal because they are poor?" But then I read the first reply. Holy Cow! People are people. Rich or poor. It is important to help those who are malnurished,under-educated and persecuted. How can the world ever be a better place if anyone thinks of a human being as an animal for being poor? I look forward to your website.

• China
17 Nov 06
i would think africans are our brothers and sisters, we all need to find a better way to help them out. remember, the ideal of world bank is a world without poverty!

• Nigeria
17 Nov 06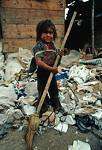 I think Africa is backward in the world. They should not be discriminated, they need help. Poverty and other issues should be taken care of accordingly. I think it os best if the people of Africa come together and discus about solutions to their problems.

• Australia
29 Oct 06
People in poor African countries need to stop reproducing at such an enormous rate. If they did not have so many children, there would be more than enough food & shelter to go around the whole family. They need to stop reproducing, or desex them. In Australia, we are thinking about making it compulsory to desex dogs & cats, to stop the problem of too many stray animals in the streets, and feral animals taking over the bush. What is different about people in Africa? Not a thing.
• United States
4 Nov 06
First, How would you like if people called you criminals because that's what started the nation called Australia today. Or should we speak about the genocide of Aborigenes? You show your real origins (Criminal/heartless) by responding with such incredible immaturity. Since when human beings are to be compared with animals? No wonder Aussies tried to exterminate Aborigenes thinking it was a way to justify ownership of the land. That only justified that you are not ready for rehabilitation from your criminal nature. May God bless you! And may you mature after reading this.