Myot Question - I wonder if I still get paid responding to old dicussions?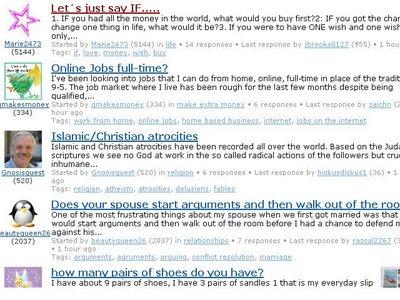 United States
January 14, 2008 1:21am CST
I search through discussions on the bottom or I go through other users profile to see what discussions they have. Then I check that some of them are like 10 months ago and others have it over a year ago. I get a weird feeling at times when I spot them and am about to post one but then I jut back off. Then I'm thinking, "Do these people still use Mylot or did they just already called it quits?" So then I'm thinking do I still get paid responding to these discussions even how old it has been there and do I still get paid for responding from other people's discussions if they have no longer logged in or still use their mylot account?
4 responses

• United States
14 Jan 08
I was also wondering about that too. Cause I like to set goals to answer 20 posts in one interest section each day so i can get high levels. But by the time i get to the 20th post, I noticed it's about 5 months to a year old. And I don't mind responding, but I wonder if we get paid for that also. Since theres no pay scale, theres no way to know is there?

• United States
14 Jan 08
I just realized I mispelled Mylot - LOL - got a what a long day.

• Philippines
6 Mar 08
Oh, yeah, I also don't know. But even if the discussion is that old but the topic is interesting, I still respond to it. I don't really mind if I don't earn from it. I get back some responses and it makes my mylot experience fun! Though, I am really trying hard to reach 500 posts. I am positive earnings will soon make me excited more!

• Philippines
18 Jan 08
Funny! I posted a similar topic like yours. Hehe! You spelled it Myot silly! But yeah they do pay still even from old responses.