Today I will only be rating discussions at myLot !!!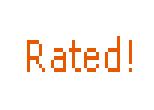 Pakistan
January 14, 2008 2:56am CST
I have noticed that for the past few days I have not been rating discussions and comments and as a result my star ranking has declined.I was regularly rating all the responses and discussions that I participated in but I feel if I don't use this feature then I will be the one who is going to be effected by it.Do yo think I am on the right track . What do you say ?
4 responses


• Pakistan
14 Jan 08
I don't think that only rating will effect the earnings here but it might help in increase ones own ranking .

• Australia
14 Jan 08
i really do not know what the difference is to you personally if you do not rate anyone.but it does make a difference to the ones you do rate.i think.anyway it can not hurt if you rate people,so see if it makes a differnce or not with your star ranking.cheers sue

• United States
14 Jan 08
I think I will be joining you after I comment on the discussions I have in my e-mail. I noticed that I have dropped one rank in my star as well, and I miss my blue star that says 10!!! I never knew that rating had something to do with this, but I think that you are on to something. So once I reply to all the discussions that I am interested in, seeing as how I am trying to get to 500 posts as well, I will take some time out to rate some discussions, as well as resolve the ones that are unresolved, hopefully I will become a 10 star again!!!

• Pakistan
14 Jan 08
Talking about time , you will not feel any difference when you rate .It will be just a few more seconds.BTW don't worry you will get your blue star back and good luck you are very near to 500 posts :)

• United States
14 Jan 08
I usually rate as a go along, but I have been being lazy as of late. Thanks for the well wishes, at this point I am just 32 away from being able to copy and paste! Yay!!!

• Pakistan
14 Jan 08
Other than copy/paste , you will also be able to attach photos with your responses and comments.


• United States
16 Jan 08
I don't think not rating others on here will make your star reputation decline. I tend to slack on rating others in discussions I start (I do rate them, though sometimes I wait days or weeks to do so) and my ranking has stayed the same. Fellow mylotters decided how to rate others on here. So, my guess is some people didn't agree with what you said in a discussion or response and hit the negative button. Though this is no reason to rate someone negatively. It is really sad when people do this and abuse the rating system. :(

• Pakistan
16 Jan 08
Yes I think you have got a point.People do sometimes exploit this rating system but what can we do just to ignore their activity and thats it.We do not even know who did it .