Photographic proof of old saying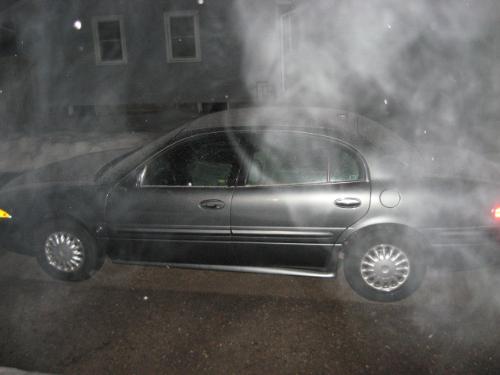 United States
January 14, 2008 2:14pm CST
I am sure you've heard the old common phrase, "It's so cold outside you can see your breath." Well I was out taking some diffent photos the other night and this happened. I decided to take a photo of my breath as I just breathed towards the lens. Wierd to do but I really like the results of this photo. It actually looks more like smoke from a cigarette but it is my breath. Just another shot I wanted to share here. HAPPY POSTINGS FROM GRANDPA BOB !!~
4 responses


• United States
14 Jan 08
Not yet that cold. I can recall winters where the fluids from ones mouth and nose would freeze almost instantly due to the subzero frigid temps. One could spit and it would freeze before it was an inch from their mouth. Ewww! But that was just to show how cold it does get here. HAHAHAHA!! HAPPY POSTINGS FROM GRANDPA BOB !!`

• United States
15 Jan 08
It looks like it could be exhaust coming out of the car too! Your breath gave the picture a different look! Maybe one day I will be able to have time to just shoot pics. But first I will have to get a decent digital.

• United States
1 Mar 08
Thanks for the best response, I can't believe you only got 3 responses for this discussion.


• United States
16 Jan 08
That is cool, you know you could have passed that off as a ghost or a being from beyond if you weren't so honest.