is it a true love?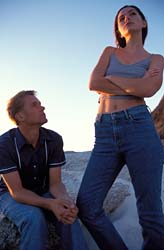 Philippines
January 16, 2008 12:52am CST
the wife of my bestfriend is very insecure on me, actually that insecurity was happened since before they had their relationship until they got married and have a son. she even forbid my bestfriend to talk or just say hi to me not only to me but also to our other friends especially if it's a girl. it doesn't end that, she even send me a lot of nonsense messages time by time... could it be a true love?
4 responses

• India
16 Jan 08
hI IVZGRACE, this is a gross situation no doubt but many suffer from this vulnerability and we must deal with them carefully. or else it could lead to pshychic problems. Whatever your friend's wife is doing is not right, not in the least and that should be nipped i the bud. I think, your frioend has to play the major role here. He should explain that mere talking to any girl doesn't mean that he is having an affair. He should involve his wife in parties where all are present, he should allow her to talk to his girl friends.... We all have different mind sets and I feel, to ove one can be very possessive, jealous and vulnerable as well as in your friend's wife's case. You all should all help her to get out of this. Good luck!

• India
17 Jan 08
How can you be at fault? If he blames you, he is to blame as well! I strongly feel that he doesn't have his stand right.

•
7 Feb 08
if you ask me, the entire relationship is extremely unhealthy. All the way around. It sounds to me like he likes the fact that his wife is that insanely jealous. It looks like he uses you and his other female friends to get her that upset. Maybe she is constantly in fear that he will leave her, and he is feels more loved when she throws a jealous fit? I would leave both of them alone!!

• India
15 Feb 08
i donot think so its true love might be feels jealous from u our she also wanna become ur best friend.

• Philippines
11 Feb 08
Hello Ivzgrace, Good day. I've been that situation...they are newly wed but dont have kids yet.But the difference between us is the gal dont have gatz to send messages. Anyway, maybe it is true love but shes too much insecured for the reason your prettier than her...Hope im right. Cause in mine..im prettier than her..hehhehe My simple advise..dont mind her and it would much better just neglect them all...

• Pasig, Philippines
16 Jan 08
i dont think it is true love.it maybe that your friend just wanted to have some fling and is only playing with woman or what we call a womanizer.that maybe the reson why his wife is so strict on him because she knows his husband more than anybody else.if i were you i will keep my distance on him and get a single guy.dont even dare to go in a relationship with a married man where you cant win,its just a headache to get one.