Nokia N99i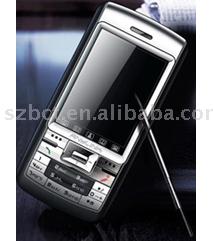 Philippines
January 16, 2008 3:50am CST
Have you ever heard this unit before? its a non Nokia but called N99i. Its a touch screen phone that supports Analog TV and CATV if you got some card. Extremely clear as if watching on your own TV set. It also has radio and bluetooth. The first faked cellphone ever had a bluetooth.. Nice one!But ofcourse, NOkia will not be glad of this kind of imitations. This phones are made in China and they say its substandard. Chinese cellphones manufacturers though provides warranty, ONE month warranty compare to the standard international one year warranty of the REAL NOKIA. But the truth is.. i got one.. lol.. and i love it.. I'd never experience any problem yet.. but one thing i want to clarify, does China made phones supports Symbians and Java Games?
2 responses

• Philippines
17 Jan 08
hi vanessa. long time no see here in mylot... i am really not sure if phones from China support Symbian and Java Games since i do not have any phones from china yet. is it not indicated in the manual?unless the manual is purely Chinese Language of course you will not know. do you have the specifications? let me know, so that i can ask my friend who knows very well about cellphones...

• Malaysia
5 Feb 08
hi neena.. kindly ask your friend on how to activate the GPRS and MMS of N99i? Many thanks.

• Philippines
5 Feb 08
oh hi malou..actually my friend is asking about the Operating System of N99i... he has not yet seen N99i since we are here in Quezon province and i am not sure if such model is available here... may i know the OS of your N99i?

• Philippines
22 Mar 08
i have a friend who is selling n99a for 18000 pesos... ayos kaya un? pero madami na daw ang bumili nun e, tpos ayos pa, khait wlang headset, pede mag-radio...tingin mo?


• Philippines
4 Oct 08
No Only java 2 support so you can installed java games. though this one is fake but its quite good but the only problem of this phone is some feature is not working. My girlfriend also got one too..its too late to remind her about this stuff she already bought. and good luck hope it will last longer