Saw this Notice in the ATM - scared me!!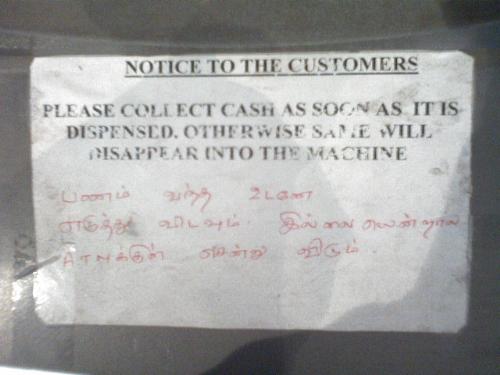 India
January 16, 2008 11:21am CST
I went to the SBI ATM to withdraw some cash and saw this notice pasted there! PLEASE COLLECT CASH AS SOON AS IT IS DISPENSED. OTHERWISE SAME WILL DISAPPEAR INTO THE MACHINE. Whazzat @ Trichy again!!! Here's a picture proof of the same! I know some ATM machines do that but seeing the notice kinda scared me!! Have any of you actually lost money in the ATM this way? PS: My quick reflexes made sure I grabbed all the cash I needed.
2 responses

• Philippines
16 Jan 08
whoa!! now thats one heck of an ATM.. if you're not quick enough, you'll end up banging the ATM to get your money back! i wonder if thats for real.. thats pretty scary specially if you're withdrawing a lot.

• Philippines
17 Jan 08
exactly! money is money! and we worked very hard to earn that money. and i surely don't wanna have any crazy machine "eat" my hard earned money!

• United States
16 Jan 08
Whoa. I have never heard of such a thing being done with ATMs. I probably would have never noticed it either, when I am getting money out of an ATM, I am quick to get my money anyway. I don't want anyone to come up behind me and take it, you know? If this ever did happen to me, I would end up on the news for trying to beat up the machine lol.