How Often do you ask questions?..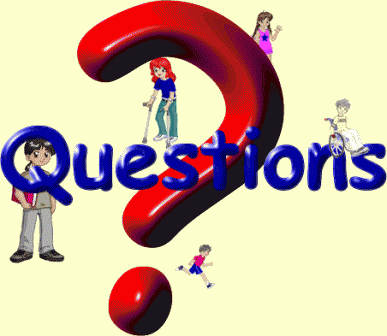 India
January 17, 2008 8:42am CST
This discussion may look silly..But my point here is when if there is a discussion going on(any)..Do you ask the question instantly to clear the point or you start imagining first and then ask them...This is a psychological test conducted long back..The result was 80% ask questions or tend to ask question and rest start their imagination on topic(Considering you are unaware of the topic before)..
8 responses

• India
17 Jan 08
I just think before asking questions or doubts. I uses to observe the words of others and usually stay at their point of view and look at the things they say. This might eventually reduce to raise the questions. Also I think that before asking silly questions, we should atleast think for a while and then post our questions. Even I am unaware of the topic, I would try to form a summary about the topic and wherever I have some questions, I would relate it to the other points in the summary and then at last if I still feel struggling, I would QUESTION!!!

• India
17 Jan 08
I think you are person who fall under the rest ..i.e other than the 80% ..I think you are the person of some maturity of knowledge(" Also I think that before asking silly questions..")..If i am not wrong you must be a professional or a tutor.Anyway thanks for the inputs..

• India
22 Jan 08
I often take part in discussions. Whenever I got some query I first think for myself and then ask.

• India
22 Jan 08
You think of yourself first interesting..ill take it as you tend to asking questions.. Thanks for Inputs

• India
18 Jan 08
Thanks for inputs..i take it as you dont ask questions very often..


• India
22 Jan 08
Thats a good habit to add up points from other responses..thanks for Inputs..

•
26 Jan 08
I tend to read a few questions before i start answering and will think about my answers before I react. However, if something getsa me angry, i will answer in anger and often make a fool o9f myself blessed be

• India
29 Jan 08
Oh dear dont show frustration or anger when answering something..I hope that snot intenetional..any way try to work on your anger..thanks a lot..

• India
18 Jan 08
I do ask questions if iam not clear of any point ..ill never imagine about wrong interpretations of the fact..

• India
18 Jan 08
Yes wrong interepretations are not justified ..but asking questions later clarifies your stand..thankd for inputs..

• India
17 Jan 08
I always as questions because it shows your interest in the topic..If there are no questions at all that means either you have fully understood or not understood anything..

• India
18 Jan 08
May be you tend to ask questions so you are under 80 ..thanks for inputs.