Lindsay Lohan is about to see dead people.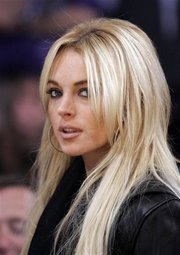 United States
January 18, 2008 9:51am CST
I would say the judge was "dead on" with this punishment or do you think it is cruel and too much? The 21-year-old actress will soon be working at a morgue as part of her punishment for misdemeanor drunken driving, her attorney, Blair Berk, told a judge Thursday. She has also spent two months in rehabilitation and has done some community service, Berk said at a hearing on her progress toward fulfilling the terms of her plea bargain. Her two four-hour days at the morgue are part of a court-ordered program to show drivers the real-life consequences of drinking and driving. She must also spend two days working in a hospital emergency room. Lohan was arrested twice last year on DUI charges and pleaded guilty in August to misdemeanor drunken driving and cocaine charges. She has already served 84 minutes in jail as part of the plea deal. Lohan was not required to appear at Thursday's hearing. http://news.yahoo.com/s/ap/20080118/ap_en_ce/people_lohan
7 responses

• United States
18 Jan 08
For a drunk driver I don't think the punishment is too harsh. I think most usually spend a little more time in the tank than 84 minutes though. I honestly hope she learns something from having to work in the ER and in the morgue. Maybe next time she'll call a cab.


• United States
18 Jan 08
I think any driver's ed classes these days should include working in the ER, particularly a midnight shift when most of the drunk driving accidents seem to come in. I'm sure THAT would be an eye opening experience. I personally could NOT work in the morgue and I don't think it's fair that the personnel of such places be put in a position where they might have to "clean UP" after those that cannot handle being in the morgue. Much more effective to see those who survive, what they might have to go through and must live with as a consequence of their actions.

• United States
18 Jan 08
That is a good idea to let young people know just what the results of DUI can do.

•
18 Jan 08
Well, I think she deserves it after being caught for the two times for the drinking and driving. Drinking and dricing is really serious thing and it can cause alot of damages. Even after spending two months in rehad there's no change in her. We can hope for the better after she has completed her work on hospital and the emergency room. This might give her a little bit of wisdom.

• United States
18 Jan 08
Lets hope this will straighen her up.

• United States
18 Jan 08
I commend the judge for making this happen...it should happen to all drivers convicted of drunken driving. Maybe being forced to witness a little reality might make things a little more real for her.

• United States
18 Jan 08
I am glad there are still some judges left who are not intimdated by celebrities

• United States
18 Jan 08
I think this is a good idea because some people just don't get it when it comes to drinking and driving. Sometimes, people need that extra shock to understand what can really happen if you do drink and drive and that it could as easily be you lying on that table than some innocent person that happened to get in your way because you were too lazy to call a cab. It's really not difficult. She needs to own up to her actions.

• United States
19 Jan 08
I think it is a good idea for her to work at the morgue.It might just straighten her up.I think more judges should do the same thing.