Dads Undecided night!!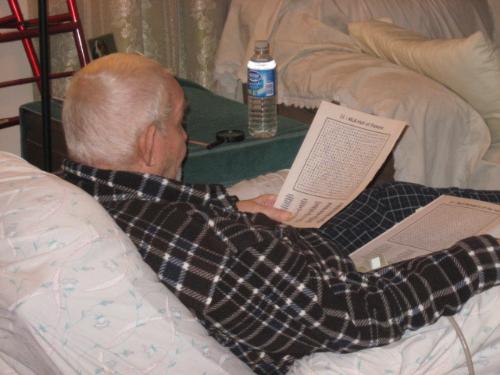 United States
January 19, 2008 3:24pm CST
Well it was Friday night Smackdown on the WWE show. dad was sitting in his recliner doing his word search puzzles. he could not make up his mind if he wanted to do the puzzles or watch his wrestling. HAHAHA! So I, being a meany, clicked the TV off saying, watch it or do your puzzles because there is a movie on I would rather watch. Well he finally set his puzzles down and watched the 2 hour WWE Smackdown show. Have you ever "made" a decision like this for a family member because there was something else you wanted to do instead? HAPPY POSTINGS FROM GRANDPA BOB !!~
10 responses

• China
20 Jan 08
Hello Grandpa Bob. So you have made a decision for your dad when he was not so sure what to do. I think that you are right to offer him help for the final decision as to make him more determined in what was going to be done that night. In our realistic life, there are too many things, either big or small, waiting for us to make a decision about. Often we feel ourselves at the dilemma what to do and it is very helpful if there is someone who could guide us and give us some good advice on that. From this discussion of yours, I have learnt a lot. Thank you very much, my dear Grandpa.

• United States
21 Jan 08
Well as I think about it, it was more a decision for me whether to watch the movie I wanted to watch or come on to myLot. HAHAHA! HAPPY POSTINGS FROM GRANDPA BOB !!~

• China
24 Jan 08
Hello dear Grandpa Bob. Thanks very much for the best response. Anyway I still think that you are a very good decision-maker when one is at a loss what to do. lol.

• United States
19 Jan 08
I'm afraid the only family members I've done this to is kids and grandkids. Just last weekend 2 of the grandkids were here - they were being kids but driving me crazy refusing to go to sleep, fighting and such. The whole time there was a movie on TV I wanted to watch but they wanted to watch the new Spiderman Movie which they weren't watching at all - I finally sent them to bed with no TV and watched my movie but I felt badly because really they just wanted and needed attention and I felt selfish for watching the movie instead and didn't enjoy it at all.

• United States
19 Jan 08
Well thimngs like this happen often. I have done the same with my grandsons just today with their cartoon network and a movie I wanted to watch. they kept getting up for stupid reasons so I changed the channel. HAHAHA! I didn't feel guilty though at all. HAPPY POSTINGS FROM GRANDPA BOB !!~

• United States
20 Jan 08
I think the only reason I felt quilty was the kids (5 & 2) are having a very difficult time at home - their parents, my daughter and her now husband, both need to grow up and be parents. The kids are suffering and the only real love and attention they get is from Grandma and Papa when he's not busy.


• United States
21 Jan 08
Being a care giver for a parent is a lot of hard work isn't it? I go nuts at times with dad but I lobe him and see to it that he is healthy both physically and mentally daily. HAPPY POSTINGS FROM GRANDPA BOB !!~

• United States
19 Jan 08
my husband does that with the lap top... its like either watch your show and turn off the computer or give me the remote. He thinks can do both, but then he has to revind the show all the time. (we have tivo where you can rewind the tv) This makes me crazy. Like watch it ir dont but dont make me watch it mltiple time because you dont want to put down the computer! :0)

• United States
19 Jan 08
I don't have TiVo here. I want it but have yet gotten it. HAPPY POSTINGS FROM GRANDPA BOB !!~

• United Kingdom
21 Jan 08
Oh yes many a time lol specially when it used to come to the Kids as little ones and as big ones lol My Son was the worst for it he used to play on his Playstation on the TV down stairs and then no one could watch tv as the Cable was connected to that one and he had the one upstairs so I used to tell him that he plays on it upstairs or he turns it of and watches TV with us lol

• Singapore
21 Jan 08
well i guess this is applied mostly to children. in the sense of 'choose whether you want ice-cream or cake' you can't have both. so if you choose one you're not going to get the other. i suppose it could be extended to mean that it's cos mummy wants the ice cream! but usually i guess it's just a matter of discipline.

• United States
20 Jan 08
Awww Grandpa Bob!! Leave your dad alone!! ;P He's lived his life and raised you didn't he? Obviously he's a good man to have raised a good son, right? ha ha!! Tell you what, get another tv and watch your show on it. Your dad knows what he's doing. ha ha!!

• United States
20 Jan 08
Yes. My son was always dragging his feet about going places. On my daughters birthday a few years ago we were going to go to a casino to celebrate..well he piddled around and piddled around so we left without him. He was not happy but we got our point across...

• United States
30 Jan 08
I'm like that with my daughter alot. Mainly because she always seems to be undecided when I'm in the middle of doing something. Sooooo I give her 2 or 3 choices and tell her if she don't make the choice by the time I count to 5, she spends time in her room. Took her a couple times to realize mom means business so now decides b4 I count to 2.

• United States
26 Jan 08
Yes all the time. I have turned the TV station when my husband has been dozing on and off and not watching his football games. When mom lived with us I use to have to tell her to turn her TV down. She would have a movie on, and reading a book. I use to hate the noise from her TV because it was so loud we could not hear our TV.