The Hobbit

Romania
4 responses

• United States
21 Jan 08
It will be different I think. I don't know anything that would be greater than LOTR trilogy. Being Bilbo's story, it will be great, and with Peter Jackson directing, it will be awesome.

• Philippines
25 Jan 08
i heard about this book and i thought there will be a 4th movie coming but it's only a trilogy.i also heard that Bilbo Baggins, not Frodo, is the protagonist of the book. I wonder what adventures would there'll be no more Orcs.

• Malaysia
6 Feb 08
Well, The Hobbit is actually a prequel to LOTR. For those of you who didn't know or read the books, The Hobbit tells of the story of Bilbo and how he found the One Ring under the Misty Mountains. Its a WONDERFUL story, with loads of actions and adventure. Bilbo went to this quest with 12 dwarves, one of whom is the father of Gimli who is featured in LOTR. The climax tells of The Battle of the Five Armies and personally I think its really wonderful because it involves a whole army of dwarves from Lonely Mountain and orcs from Misty Mountain. So there is a bit of fighting involved. Plus there is an instance where Bilbo fights with the giant spiders. Yeah, spiders. Descendants of Shelob perhaps. Anyway, do watch it when it comes out. It's gonna be great. I know, I read the book.

• France
29 Jan 08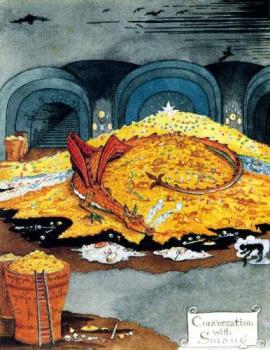 It will be good, Guillermo del Toro from Hellboy is directing as Peter Jackson has a full schedule with Tintin already. The story was hinted during LOTR: the adventure Bilbo took with Gandalf to defeat a dragon and give dwarfs their treasure in the Lonely Mountain. The sequel is tricky to say as they will try to bridge The Hobbit and LOTR. Good thing is that Mr Jackson is on the project after settling with New Line. Looks promising.