Strange behaviour hints to an affair!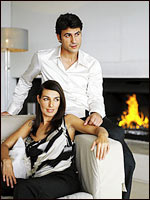 India
January 22, 2008 12:15am CST
When one partner keeps himself or herself alone all the time and avoids encounters with the other partner, that can mean that he or she internally is dismissing the relationship. when a lover pursues his own interests almost exclusively, when he is on the telephone for hours, discussing things that his partner knows nothing about then there is danger ahead. It's also a clear sign, if he has started looking for new friends on the Internet. But it's not always easy to spot because nobody, despite all the confidence of a relationship, can see into the other's heart. "People search for perfection in their relationships. Romantics have a hard time facing the fact that affairs occur and not all that infrequently.
5 responses

• United States
22 Jan 08
I don't see any danger, though somebody can talk for hours with somebody they just met or chat for hours on line. An affair is not necessary to happen from long talks, people who want an affairs, usually meet face to face, don't spend time on the phone or chatting on the Internet. They prefer chatting with somebody in person, those people who want an affar.

•
22 Jan 08
i've been cheated on in the past and the big sign that says i am having an affair is the name drop, when they keep saying the other persons name. they start taking up interests that they never had any liked before, which happen to be the same as the other persons. they pull away when you try to show them any kind of affection, or do the string you along enough and say i'm not in the mood. wont let you in the bathroom when they are naked or getting dressed. "oh, hold on i'm working late, dont wait up"........whatever!!! start fidgeting or talking over you when you are talking to them, like they are not interested in a thing you have to say. cause arguments so they can get out the house to see mr or mrs x. when you say i love you, they respond by saying something else or nothing at all, when they have always said it....big one. i know i have forgotten a few, but the list goes one unfortunately, and they dont seem to think of your feelings when they are having an affair.

• Canada
22 Jan 08
I agree that these are signs to look out for if you think something is up. Acting differently then before and changes in relationships are clues that someone is unhappy with the relationship.

• Pakistan
22 Jan 08
Perfection is no where in eath only God/Allah is perfect so love or friendship must be un conditional accepting with all good and bad points take care

• Canada
29 Jan 08
You are right, these would be signs of a troubled relationship. I'm sure we could add a whole bunch more to your list, but you have nailed it pretty good. I was divorced from my first husband and the signs were all there plus more before I found out he was fooling around on me, but I ddin't want to see them at the time. After we split I saw them, but by then there was nothing left to try to save. If I had seen them sooner maybe I could have stopped what was happening by being more attentive and loving to him. If only we could see the signs while they are happening!