gettin the itch to go camping!!!

January 22, 2008 8:29am CST
I haven't been camping in just under a year, and I'm about to go crazy!! I can't wait for spring time...I'll be campin', breathin' in fresh air and crunchin' leaves under my feet. My friend asked me why I don't just go camping now...um...because yesterday the temperature with windchill factor included, was 15 BELOW zero...but he says it's better to go camping in winter... does anyone else prefer camping in the winter time? why? not I...I have the cold...
4 responses

• United States
23 Jan 08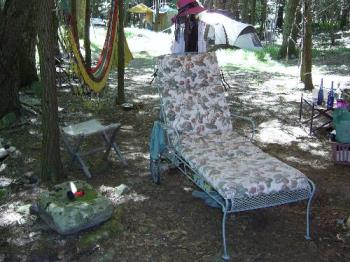 Last summer I tried to spend the whole spring, summer, fall, and winter camping. I only made it to fall, but it wasn't because it got so cold it was because my neighbor, a cop who doesn't like me, discovered I have no driver's license, which curtailed my freedom of movement a bit. Not only that, but I had incense and perfume in my tent... I never even took any clothes that I had cooked or eaten in, into my tent, so it had to have been the incense, anyway a bear destroyed my tent trying to get to it. My other tent the weather finally destroyed. And a coyote got one of my kitties. But I LOVE camping, I drank water straight out of the mountain, and bathed in the stream. I think camping in the winter would have been fun. It does get cold though, and I probably would have resorted to showers at home then. I'm thinking I'm sick and tired of cold winters. I'd go back to California if I wasn't so burnt out on it there. Not only that, California has grizzlies... I don't wanna phuck with grizzlies!!

• China
23 Jan 08
Hello dear zigzag buddha friend. I am very happy to see you here in the same discussion. I am thinking that maybe it is not a safe place for you to go camping as you have coyotes there. I am afraid of them very much as they may be as fierce as any of a wolf in the forest. Besides you have bears there. I think that I will never choose to ga camping at a place where I do not feel safe...By the way, thanks very much for the picture where you camp. Have a good time, my dear long-time-no-see friend.

• United States
25 Jan 08
And hello back to you Sir William! Yeah, long time no see! I have gotten pretty bored with MyLot and don't spend as much time around here as I was before. And don't worry about me and the coyotes because I have learned to howl like a wolf, which frightens them away. But anyway, I'm not camping right now, so even more not worry for you! C U around! And thanks for stopping by my post to say hello! I hope you are loving your life! Ta.

• United States
7 Feb 08
Well, they do get high, yes. But they don't sleep... they like to get as close to me as they can to admire my beauty and bask in my light. They are some of my most devoted fans, but it really is a mutual admiration society we form, because I admire their beauty as well, and am balanced by their wild nature and the pure unadulterated spirit that is their essence.


• United States
25 Jan 08
Winter camping for me is way to cold!!!! I don't mind the temps at night falling around 35, much colder than that is to cold. We use our State Parks when we go camping and most of them around here (unless they are horse campgrounds) are closed from Nov thru Feb. Our State Park system is great! You always know, that no matter what park you go to, you always have a campfire ring, DNR that passes by often, firewood available and good working restrooms.

• China
25 Jan 08
You can enjoy yourself differently in every season. So my advice is go, and enjoy it.

• China
23 Jan 08
Hello dear friend. I agree with you that it is a better time to go camping in spring when the weather is fine and warm, not in winter when it is so cold. I am wondering how your friend will handle the cold weather with so low temperature outside if he is supposed to go camping. lol.