would you say that shewag made the match to turn around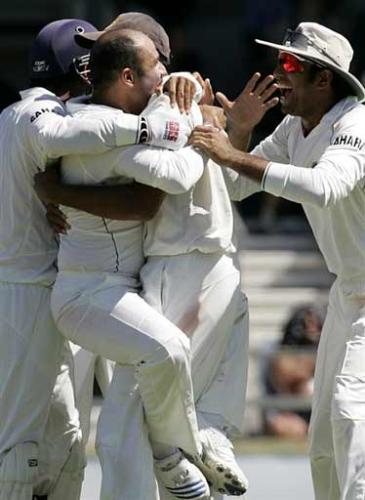 India
January 22, 2008 9:10am CST
As both the dismissals which turned the game towards the indians was the wickets of ponting and gilchirist.And in both the dismissals shewag had a role to play as in pontings case it was him only who said to kumble that he should give one more over to ishant and he picked the wicket in that over and bowled gilchirist through the legs.
4 responses

• India
23 Jan 08
yes he done a good job when the wickets are required to win the game

• India
24 Jan 08
he did fail with the bat when the bowl was thrown to him he did the job for kumble

• New Zealand
22 Jan 08
there were many turning point in the game ..Shewags 2 wickets in 2 over was really important one ...and it really chaged the game ..cheers

• India
25 Jan 08
Sehwag did play his role.. it was a fruitful decision to give Ishant one more over..but all the credit goes to Ishant Sharma.. he deserved the wicket .. and dismissing Australian Captain Ricky Ponting twice in one match is not a magic.. he is a hard working guy and a forth-coming gr8 indian bowler...India had everything going on their way.. further helped by 2 wrong lbw decisions against Hussey and Symonds... And what a delivery it was.. Bowled out round the stumps Gilchrist might not have even imagined... anyway 3 cheers for India,, and i hope the success continues in Adelaide..

• India
25 Jan 08
I think Sehwag is a good thinking cricketer. I think he is a very good batsman and a handy bowler. I think most times Sehwag has the ability to get a good start to the team, which the middle order batsman can capitalize. I alos think Sehwag turned the match to India and was one of the key to Indian team's sucess.