Monica...A Drunk...Who Knew????lol!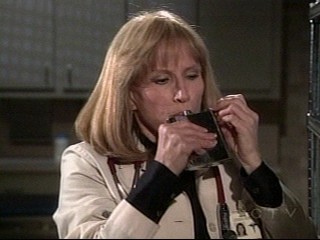 Canada
January 23, 2008 11:01am CST
Ok, so I am assuming that they are showing her drinking on the sly for a reason. Who knows with TPTB, the way stories are stopped and started these days right out of the blue---remember last February, I think it was when they showed Alice opening the door, picking up a delivery and then passing out right on the Quartermaine doorstep? lol. It was part of a greater montage, when Jason was trying to find the cure for the epidemic which seemed to be affecting most of the citizens of Port Charles. Nothing was ever again memntioned about that!!! Ok, so back to subject at hand, Monica keeps her vile of (gin or vodka) hidden in the supplies room, that evidently has no door, just a curtain, as we saw little Lulu so easily access the room yesterday and she is drinking on the job and how many times does she get into her car and drive home after a 'lomg' day of work? (well, one too many times, we will soon find out)!! Gee I wonder if Monica will be allowed to 'see' Alan one of these drunken days. Before he is gone. Which will likely be, when Tracy and everyone else find out that Baby Jake is the real heir and Golden Child of GH and Quartermaines. Thanks fot passing the torch, Jason!. Now go tell Monica that the adoreable little baby is your son and Mpnica also helped in the 'surgery' of your grandson's mom! Give her a reason to not trash her life. I love Monica (Leslie Charleson) and am looking forward to this great story unravelling and seeing a little more of her!
2 responses

• United States
23 Jan 08
Monica should e a shamed of herself. The woman is falling apart and taking it to the edge. She is going to kill someone and go to prison. Then she will be thinking of how she treated Jason.

• United States
23 Jan 08
As I said in a previous discussion I really hope they give her a great story line some thing like a sleezy affair. She hasn't had one in a lonnng time. It would bring in a story line and possibably a new charcter.