Your first book

Canada
8 responses

• Canada
23 Jan 08
i have always loved reading since i was little (my weekly treat was a new book every week when i was little) the series that i remember reading and re-reading was the 'little house on the prarie' series! they were the best! but even when i was young, i began my love of history/biography and i remember reading many!

• Canada
23 Jan 08
That is a good idea. A book as a treat instead of candy or something like that. My kids get books on top of treats my 7 year old gets books out of her book order every month from school


• Canada
23 Jan 08
That is too funny, I don't remeber reading much when i was 7 or 8 i was way to active to sit still long enough but i remeber when I was 10, because we had moved into our new house and I was bored so i picked up this book, I'm pretty sure it was my moms or one my mom had gotten me and sitting on the couch by the window and reading it and loving it, then i started reading nancy drew i loved her stuff and sweet valley high books

• Canada
8 Feb 08
I want to get it to read it to my 7 year old and have her read it too me. She is a great reader and I think she will like it too. I wonder if she is too young for nancy drew??

• United States
24 Jan 08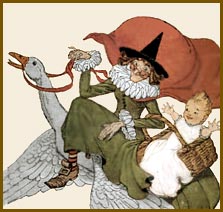 My first book that I remember was mother goose. The other day I found a site that had all (or a LOT) of the nursery rhymes my mother used to read to me as a child. http://www.zelo.com/family/nursery There was a book of short stories that I read that had a red cover on it but I don't remember the name of it.

• Canada
8 Feb 08
We have a book of nursery Ryhmes...My daughter had most of them memories now she has passed it on to her sister!!!Thanks for the post

• United States
24 Jan 08
My parents do a lot of reading and always encouraged me to do so as well. It's hard to really remember what was the first book I read. I can remember Judy Blume books, Nancy Drew Mysteries, Piers Anthony and Ann McCaffery. Every summer I would spend hours at the library reading away.

• Canada
8 Feb 08
I also read the nancy drew books as well. My step daughter has a few of them. I was wondering if 7 is too young to start them because my daughter is 7 and she loves to read but i really can't remeber if they are that scary!!!

• United States
11 Feb 08
You know, I can't remember if they are scary or not either, it's been so long! I know that my son who is 10 and in the 5th grade was required by his teacher to check out a Nancy Drew or Hardy Boys book out from the library last month to read.

• United States
24 Jan 08
My first real book was Little Women. I absolutely loved that book and still do. It was the first book I had my daughter really read as well. She's as bad about reading as I am. If only she could get by the rest of her life with reading alone.

• Canada
8 Feb 08
Wouldn't that be something....She might get a job as an editor or a critic they have to do a lot of reading. That would be an aesome job.

• United States
24 Jan 08
it really is hard to say. i read so many books in my childhood that it is difficult to remember which one i read first

• Canada
8 Feb 08
Some people just had an expression from a certain book that stayed with them. I am sure I read other books before I was 10 years old but this is the one that stays with me!!!thanks for your response

• United States
8 Nov 10
The very first book I ever read and really remember was the Indian in the attic. A lot like indian in the cupboard, but a little twist to it. It was a great book, and ever since then I was completely hooked. I couldn't stop. From that book I went to Charles Dickens, which I stayed on for quite a while. Then from Charles Dickens to anything I could get my hands on. I positively love to read. Whenever I get the chance there's nothing better than to read a book. Not only does it help you as a wonderful source of entertainment, but experts say that avid readers have longer lifespans. Makes sense if you really think about it, using the biggest muscle our body has and using it avidly gives it quite a jog. On top of the already great things that reading does for us it also helps us with problem solving. Including math, I know that sometimes it does not seem that way, but if you're a good reader then statistics say that you're better in other aspects of education. Makes sense I guess considering on a test for science they can't take us in a labaratory and have us do experiments, but we can read what to do about it. Not too bad for a book as much as possible. I guess an apple a day keeps the dentist away, and a book well it's just good.

• Garden Grove, California
20 Apr 08
My first novel was Little Women by Louisa May Alcott and I loved it. then I went on to read Jo'Boys and Little Men. Also the Five Little Peppers and How they grew and Phronsie. then I went onto the wizard of Oz and Sherlock Holmes and the Nancy Drew\ series. this really dates me lol. I also read Hedii and loved it too.