How do you cope after losing a beloved pet? Do you have another?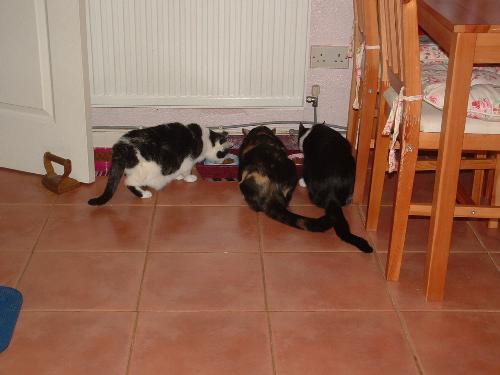 January 23, 2008 4:54pm CST
I have three cats, Missy, Denis (don't ask) and Jess. Originally, I had two rescue cats, this would be approx 8 years ago. They were mother and daughter, the mother was called Duchess and the daughter was Missy. They were both semi-ferrile and it took around 18 months before they would even let me stroke them. There were days that I wondered why I kept them because it was just like a gave,gave,gave with nothing in return. There was just no response from them, other then fear. But I remained patient and gentle, and eventurally I received my reward. The two of them became the most affectionate pets you could wish for!Unfortunately, the mother Duchess, died last year. We knew for a few months before that she probably wouldn't last much longer. She had lumps all over her tummey and by that time she must have been quite old. I'd had her for 7 years, and she was probably over 10 when she came to me. The odd thing was the night she died. I'd actually made an appointment at the vet because it was just getting too sole destroying to watch her. It was obvious she'd had enough. But Duchess's favourite place in the world was our spare bedroom. Its a room my husband uses because he works such odd shifts and I have to be up early. But its the room she always felt most comfortable in. During the months before she died, Duchess didn't or couldn't go upstairs. Infact, I found myself wondering what she would do or where she would go when she did die because I'd heard that cats always go off to die, and my cats had become indoor cats. However, this particular night that we had the vets appointment, I came home from work to find that Duchess had managed to drag herself up the stairs to the spare bedroom. I can't even begin to imagine the massive effort this must have taken on her part. I went up to her, held her in my arms and whispered to her, crying all of the time. I didn't know what to do for the best. My instinct was that Duchess had taken herself up there to die. But then, what if everything I had heard wasn't true, that she hadn't gone there to die that night, and so we missed the vets appointment and Duch carried on suffering? It was so difficult and both myself, my husband and the cat were all in terrible pain. In the end, I made the decision, wrapped Duchess up in a towel, carried her to the car, and to the vets. Its one of the biggest regrests of my life. The vet of course knew why we were there. They did put us into a seperate room, rather than keeping us waiting in the waiting room. But my God, did we have to wait for so long! Duchess was on my knee, and all she wanted to do was lay down. I just didn't have enough knee to accommodate such a large cat and I felt she wasn't comfortable. In the end, I lay her down on the hard vets table, but wrapped in her towel. After 40mins of waiting, my husband finally went to ask the receptionist how much longer it would be. After an hour, they finally came to put Duch to sleep. I can only say it was terrible. Duch began to struggle, and I feel so awful that the only thing that calmed her was my putting my hands on her. The moment my hand touched her, she calmed straight away. That's why I feel I let a friend down who so trusted me. She knew everything would be alright once she felt my hand. I so wish I had let her die at home!Anyway, we wrapped her in a fresh towel, provided by the vet, and bought Duchess home. She's burried in the back garden, and I planted Primrosses on the grave. I said I wouldn't have another cat, but we still had Missy, Duchess's daughter. And over the months, Missy started to get more and more human. It wasn't so much missing her mom, but she got very clingy towards me, and the last straw was when she began grooming me, picking at my hair!A few days later, I saw an add in a pet shop window for a kitten, and I fetched Denis that night. My husband chose the name because he's a bus enthusiast (its the make of a bus). However, Missy and Denis hated each other on sight. Denis just wanted to play, and Missy just wanted to sleep. He kept on chaising her, and she didn't want to know. It was 3 days before she would eat anything, and I was terrified i'd made a massive mistake. Eventually, things calmed down and became more tolerable, but a few months later, I decided it might help if we had another kitten for Denis, help to distract him from Missy. Weirdly, it worked! We had Jess, a darling tabby cat, so cute and preity, and both Missy and Denis think the world of Jess. She has totally bonded them all together, she's got both of them wrapped around her little paw!I now feel a complete family again! I'll never forget Duchess, every time the Primrosses bloom, I have a constant reminder.... But Missy, Denis and Jess have bought so much into our family, they have given so many hours of fun and amusement, I don't know how on earth I could have contemplated never having another cat after we lost Duch. They just give so much and all they want in return is food, shelter and love!
1 response

• United States
23 Jan 08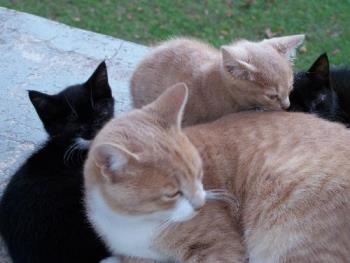 I recently lost all my cats, I posted it here yesterday. I am having a hard time with it. I cry for them and I keep having dreams about them. I miss them so much. My husband wants to get another one but I just can't yet, it's a horrible feeling and I need to grieve for my babies for a while. I think they deserve to be mourned.

•
24 Jan 08
I'm so sorry for your grief, people sometimes don't understand how difficult it can be to lose a pet, they are afterall our family. You're right, they do deserve to be mourned, and you'll know yourself when the time is right. I think it was about four months before I could think of another, but it wil be different amounts of time for different people. Why not see how you feel in the Spring, normally the time for rebirth, and I believe the best time for finding a new kitten? Good luck and take care.