Someone Killed My Dog...Is It My Fault?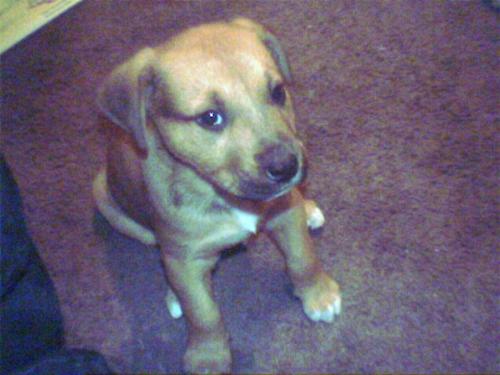 United States
January 25, 2008 3:33pm CST
I had a pit puppy named Brownie. He was about a couple of months or so and i have him for five months. My two little girls and boyfriend has grew attached to him quickly. Well one day i forgot he was outside using the bathroom and he stayed outside all night. The next day i woke up and asked my boyfriend where was Brownie? He went outside and he was nowhere to be found. We called and asked many people have they seen him all day but nothing. Later that night my boyfriend (Daniel) went to the store to get a pack of Newports. On his way back walking from the store he saw Brownie on the side of the street dead. When he told me this I felt terrible blaming myself for leaving him outside. Do you think it was my fault for Brownies death?
6 responses

• United States
26 Jan 08
I'm so sorry that happened, that's my biggest fear with my dog! I wouldn't beat yourself up over it, you forgot, and there's nothing you can do about it now. What I do to ensure I don't forget about my dog being outside is to leave the door open (we have a storm door, thats shut, but the main door I leave open a bit. It works well in winter because obviously you don't leave the door open in winter so that reminds me that "hey the dogs still outside." Also if it's before bedtime you'll remember because you usually lock up before going to bed and if the doors still open, then you remember it's for a reason.


• United States
25 Jan 08
I hope you do feel better soon. Any loss can be the deepest pain one can feel. I am not sure how you could forget your dog outside. But however it went your not to blame. You are human and it happens. I am hoping he was not suffering and you don't take it so hard. Good luck :)

• United States
26 Jan 08
I just read your title again. When I was writing before, I just assumed Brownie had been hit by a car. Do you mean that someone deliberately killed him? If that is the case, I think you should notify the police as well as animal control or whatever agency handles animal cruelty in your town/county. Be willing to provide Brownie's body if they need it -- again, you want to make sure if someone is so cruel that anything that might help them be caught will be done, and that hopefully they won't get a chance to do this again. I'm so sorry for what happened to Brownie and your family.

• United States
26 Jan 08
I went to go see Brownie after my boyfriend told me about it. There is no way a car did that it looked like some took a bat to his head and beat his brains out. It was very horrible. It looked like he tried to get away to and just collapsed. I didn't call anyone though. I live in Danville,Va...our police really dont care about animal or people really. Theres nothing i can do plus how would they know who did it. I just took him in my back yard and buried him with some flowers. The kind he would always go sniff (lol).

• United States
29 Jan 08
You answered my question. At least you went and buried him. You did one thing right. I have no patience for those who abuse animals. What you did was animal abuse. You'd be fined and jailed if you forgot your kid. So sad that animal rights are so below humans. They feel, think and are alive just as a child is. So sad.


• United States
28 Jan 08
poor thing, its not your fault. dont beat your self uP!

• United States
29 Jan 08
How is it not her fault? SHE forgot the dog. The dog got ran over or killed because SHE forgot the dog. Had SHE not forgot the dog, the dog would be alive. It is her fault. Period.

• United States
29 Jan 08
Yeah, it is your fault. Why did you forget him? I just feel sorry for the dog for being neglected. I'm not going to coddle you like the other posters did. You forgot about him. Would you forget and leave your child outside all night long because he or she was playing? No. Then you should not have forgotten about your dog. Dogs don't know to stay out of the street. You need to mature before you get another pet or get a fenced in yard or a dog run to put him on. Otherwise it'll just be neglected again. The only one any of us should feel sorry for is the deceased dog. Did you at least pick him up to be buried or just leave his body on the side of the road?