If you believe in God..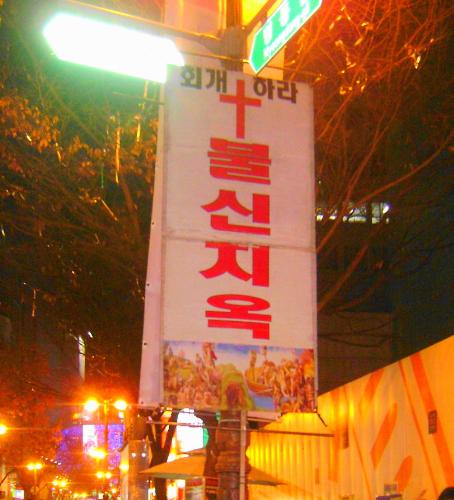 Philippines
January 26, 2008 7:14pm CST
Last week, my journey took me to a famous shopping district in a city regarded as the world's 5th most expensive. It was a sight to behold for tourists like me. And like all tourists, I love taking pictures and love having my pictures taken. Since I'm travelling alone, I always ask favors from strangers to have my photo taken. So, while walking this famous shopping street, a streamer that hangs from one post to another has caught my attention. I barely understand or speak their language but I figured if it's hanging everywhere then it must be something important. I asked a native to take my photo. He looked at me oddly but took the photo anyway. Later, I showed the photos to some friends. One of them commented on this photo and it shocked the hell out of me! The man who took my photo must have thought I was weird or something. Turned out the streamer says "If you believe in God, you will go to Hell!". I am not a practicing Catholic. I'm not a regular Sunday churchgoer but my faith in God is intact. I don't understand how this famous city(where tourists are everywhere) can allow non-believers to post such comments on the streets. It's just so insensitive. We may not all be binded by religion or faith, but it would be really good if we could just keep our thoughts to ourselves. Have you experienced anything as odd as this? How did you feel? What did you do to get over the ill feelings? I'd really love it if you could share.
4 responses

•
27 Jan 08
Fifth most expensive city would be Hong Kong, behind Moscow, London, Seoul and Tokyo. http://www.finfacts.com/costofliving.htm Perhaps it is an appropriate banner to have in such a place? all the best urban

• Philippines
27 Jan 08
Arrrggghhh..I must have gotten the figure wrong. Last I heard it's the world's 5th most expensive city. I didn't know it's just a little behind Tokyo now. Well, thanks for the info though. Ciao!

• Philippines
27 Jan 08
Hey Urban! I'll have to keep quiet about the details for awhile. I'm still in this city. I'll let you know when my journey has taken me some place else. Meanwhile, you can make a wild guess. Ciao!

• Philippines
28 Jan 08
belief and faith is objective you know. Sometimes, its cultural, social, or even personal. . Maybe if the people from that city who doesnt believe in God goes to another city and see banners that say, "If you believe in God, you'll go to Heaven," Maybe they'd feel quite the same, as you did... Anyway, its not wrong to feel surprised, especially that we believe in HIM. It really helps that we have a personal relationship with God, that whatever we see, hear, or even read, wouldnt change how we respect and love Him..

• United States
27 Jan 08
Well, I in no way at all believe in what this sign said but at the same time I do believe in freedom of speach. There is a very important lession to be learned here though - don't have your picture taken with signs that you don't know what they say :)

• Philippines
27 Jan 08
Hey Faith! It's been so long since I've last been active in myLot. Hope everything's still great around here. Anyway, my journey has taken me almost everywhere but this is the 1st time I've had anything like this. I'd like to consider it as one of my life's biggest bloopers! Thanks for the advice. I'll keep it in mind. Ciao!

• United States
4 Feb 08
Your trip sounds wonderful - I seem to never go anyplace interesting, just to town these days. I too had not been to active here for several months but only because of busy with other things such as starting a new arts and crafts home business.

• United States
27 Jan 08
I suppose freedom of speech never popped into your head? The people apparently in this place had the freedom to do this. Maybe they were of a faith that did not like christians or had been bullied by missionaries at some time in their history and this was a form of rebellion. I think if the man had given me a funny look I would have asked him what the banner or sign said. You were the foreigner, and as such, you were the one who should have been careful. Just because you were a tourist, you are not given any special rights or accomodations. We do not treat tourists special in America. We even have the audacity to expect them to speak perfect english when they come to our country and to immediately know all of our laws and obey them to the letter. I have been in many European countries and Caribbean islands and I have always been wary of strange laws and customs. A lot of things can get you into trouble when you are traveling. I do not know if it is still true, but Singapore used to have a law against chewing gum. You would be lashed on the back with a split bamboo cane if caught chewing gum. Shalom~Adoniah

• Philippines
27 Jan 08
Well, I did ask about the sign, but apparently, people around here can barely speak English as well. Anyway, thanks for the tip on Singapore. I'd keep it in mind, if and when, my journey takes me there. Ciao!