Pirates of The Caribbean...Is There A Fourth?

United States
January 27, 2008 12:43pm CST
At World's End was a very good ending don't you think....but is it the end really? From the looks of it to me there should be a fourth to this very exciting adventure. Jack took a part of the navigational charts from Balbosa, but Balbosa took his ship (The Black Pearl) again. So....will Balbosa go back for Jack again or will Jack Catch up with Balbosa or go on his own to find fountain of youth? What do you think?
9 responses

• United States
27 Jan 08
Did everyone watch the last movie past the credits? Alot of people didn't and don't know the last bit of the movie. It shows Will come back to his girl and their son who are both waiting on top of a large cliff. There's that bright green flash and then they appear. It ended ok, but there is alot of possible outcomes....


• United States
27 Jan 08
I think another movie is definitely in the works, or they wouldn't have ended it as they did. I would love to see another movie and find out if Jack finds the fountain and gets the Pearl back.

• United States
28 Jan 08
i didnt see the last one so maybe a fourth movie is neccessary, i dont know. but i will say this. i dont want them to make sequels untill sales are down and they ruin movies. some of the best movies dont have sequels and are ment to be left that way. i cant comment too much on whether i think theyd make a fourth because i never saw the third but it sounds like they may judging from what other people have said on here.

• Australia
19 Feb 08
yes I think there could possible be a fourth movie but I don't think Will and Elizabeth would be in it because their journey is completed and summed up with that little bit after the credits. A shame really because they were my favourite character and I'm sure many people would feel the same. However, I would still see the fourth movie if it was to be made. I'm a sucker for a good adventure movie!

• United States
13 Apr 09
as much as i loved the POTC series, i hope there isn't a fourth. it was a great film series, but its time to let it go. Plus, Keira and Orlando said they wouldn't be in a fourth one, and it wouldn't be the same w/o them.

• United States
2 Jul 08
There should definetely be a fourth movie. The ending with the missing chart just left me thirsty for more. Also, I feel that, while there was a great deal of plot development involving Jack Sparrow, it was mostly aimed toward the development of Elizabeth and Will. I think it would be very interesting to see a Pirates thatz main focus is Jack Sparrow. I am also interested in seeing how things have changed now that Calypso has returned to the see and Davy Jones is no longer a fear. It is disappointing, of course, that Will and Elizabeth will not make any appearances at all, but, in the long run, I feel that their absence could make room for some interesting plot developments elsewhere in the story.

• Malaysia
4 May 08
If i was the director i won't want to film the forth. As the plot actually has nothing more to elaborate. I know the past 3 movies had done a good job but i am happy to keep it just like that. Anyway, people may lose the freshness towards the movie if they just squeeze out something to film the forth movie.

• United States
28 Apr 08
I agree the ending of At World's End was excellent as was the entire ending,I think they should make a fourth pirates movie,because there are still alot of adventures left for Jack Sparrow,I think that if they make a fourth one that it would be cool if they have Jack Sparrow and Balbosa in a race to get to the fountain of youth,since Jack took a part of Balbosa's navigational charts.

•
11 Apr 08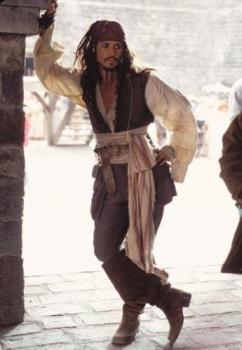 Somehow I'm guessing that there will be a fourth in the series although it's unlikely to be any time soon. At the end of Worlds End we see Will's child looking at the sunset, so I suspect they will have to make a fourth just to reunite Elizabeth with Will

• Sweden
27 Jan 08
I know there will be a forth movie, since Jonny Deb has signed up for doing the role as (Captain)Jack Sparrow. What i know is that the movie will center around Jack, Barbossa will be in the movie and Jacks dad will get a larger role. Sadly it seems both William and Elisabeth will not be in this movie at al, dont know how it will affect the movie but its a little boring that both of them are not in it.