They never cease to amaze me...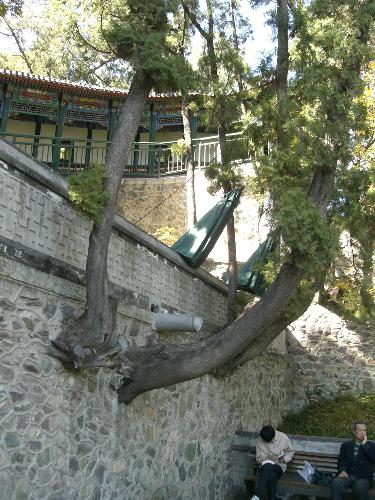 Philippines
January 27, 2008 9:41pm CST
My husband came home from Tianjin, China and he brought pictures from his visit to the Fragrant Mountains... Well here is a particular photo... that i couldn't quite get at first... i thought it was upside down or that it was taken at a different angle... but when i saw the two men sitting on the bench... i was amazed at what i finally saw... the trees grew right out of the wall... i don't know if they were planted there on purpose... but i never thought that tree can grow like that... with this photo... i love trees even more now... I think the picture is amazing... what do you think? If you read this from your email... you will not see the image...
5 responses

• Australia
29 Jan 08
That is indeed amazing. I love photos like this, seeing uniqueness in nature. I made a comment on your great photo. Thank You.


• Philippines
29 Jan 08
Thanks for seeing the beauty of the picture... i have a lot more interesting pictures of trees and nature... but they were taken before the digital cameras were available so i have to look for them in my mother's house and scan them... thanks for the response...

• United States
28 Jan 08
What a great photo. I wonder if they are volunteer trees. I wonder why the roots of the trees have not ruined the wall. Thanks for sharing the photo. I would love to visit china one day.

• Philippines
29 Jan 08
It is indeed a great picture that is why i wanted to share it with the mylot community... i don't know what kind of trees they are... but it is so amazing how the Chinese found ways to control the roots so that they will not ruin the walls... China is a great country... and i envy my husband for having the opportunity to work there... thanks for the response...

• United States
28 Jan 08
Thanks for explaining that the image does not show in the e-mail, as it doesn't show in the response window either, but thanks to your advice I knew to go look at the overall discussion. Lovely! I adore photos like that. What a beautiful setting, too.

• Philippines
28 Jan 08
Glad to be able to help you... it is a very beautiful picture... this is another reason why i so envy my husband for having the opportunity to visit such places... but one of this days... when my baby is old enough... we might go there to... and i will surely take a lot of pictures of unique trees... thanks for the response...

• United States
28 Jan 08
Well, actually it is common here in the mountains around where I live. A seed gets trapped in a fissure. Then dust accumulates to the point of being dirt. Then the rain and so on. Next thing you know, there is a tree growing sideways out of a rock, rock wall, even sometimes a wooden fence. After a few horizontal inches, the tree curves up and continues to grow. I've always loved seeing this and it seems that these trees are always left alone. Proof that perseverance is the key to success!

• Philippines
28 Jan 08
So i guess this type of thing is a natural occurrance... this is my first time to encounter such trees growing that way... even when we went hiking to a mountain... i did not see trees grow like this... well trees are really a wonder to me... and i love how diverse they can be... just like people... thanks for the response...