How did you come up with your kitten or cats name......

United States
January 29, 2008 3:48pm CST
Are you creative when trying to name your pets? I have never been creative and it always seemed to take forever to pick out a name. I have two cats and a kitten and the kitten never got named until now. I had three cats, two are male and the other one I thought was a male turned out to be a female. So when my male cat got her pregenant a second time we ended up givig her to a really good friend of ours. We kept one of the kittens from the litter and we never really came up with a name for the kitten. My two year old daughter Nicki calls the kitten baby and my sons Zac and Logan call the kitten Jerry Jr. Well my husband has been asking me about a name for the kitten and I had no idea until this morning. The kitten jumped on the bed this morning and was playing with my husbands feet and nibbling on his toes when he looked at me and said "Will you please do something with your tiger, he is chewing on my toe." I looked at him and smiled and said "Thats it, thats what I will name him Tiger" So now I have found a name for our kitten thanks to my husband: Tiger My other two cats are named Tom and Jerry after Zacs favorite cartoon Tom and Jerry. I think Tiger is so cute and fits his personality to a tee. Where did your inspiration come from when you named you cats, I would love to know.
6 responses

• Australia
30 Jan 08
I had actually chosen my cats name before I got her.... I was wanting to get another cat so I was plaing with names... I had 2 previous cats they were called Keirra and Toosha so I put their names together and came up with Keisha.... I love the name and hoped it would suit the next cat I got.... It sure did Keisha is now 10 years old. :)

• United States
30 Jan 08
I've named some of my cats after characters from video games: Bowser and Bowyer. I named another cat I had Mouser Birdy because he liked to eat both. I don't know how original that is. Then I named another Percy. Just seemed like a good name for a cat.


• Australia
29 Jan 08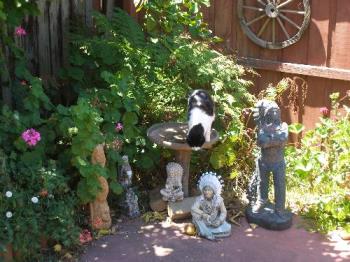 the cat I have at the moment is called Stumpy because he only has a stump as a tail, I am not sure how that happened as he adopted me as an older cat so it was like that when he came to me, I usually llok at the cat and see what they look like. The other cats i have had were, Smokey a grey cat and Charlie and he was white but he was a neighbours cat i took in so he was already named...but he looked like a charlie...:)

• United States
29 Jan 08
We aren't very creative. We have Oreo (black and white kitty) and Tigger (orange kitty). After watching the first movie of Stuart Little I went out and got two gerbils (are those the ones with tails?) and named them Tom and Jerry. I couldn't tell them apart till one lost part of his tail, then I named the other one Tom, tailless was Jerry!

• United States
29 Jan 08
I have two male cats living with me. I moved into my apt with a homeless mother cat. She was jumping in and out of the window to care for her newborn. Then as the cat started walking around. It found that my daughter and I were living there. So the kitten would find the need to cuddle up on my lap. Or even behind me on the back. So that is how we named him cuddles. Then one day a person rang our door bell. There was a boy who handed my daughter a cat. The cat looks exactly like the one in the avatar here. I then found him so nice and fluffy. so there is where I got the name fluffy from.