Baking Soda uses?

United States
8 responses

• United States
31 Jan 08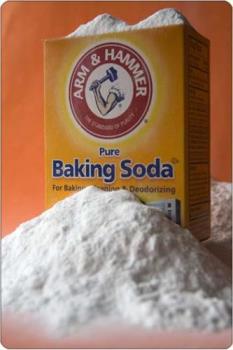 Couldn't tell you how many ways but I do use it when I vacuum the furniture and when in need of toothpaste it does make a wonderful replacement. Below is a site for 61 different uses for baking soda. http://www.bellybytes.com/articles/bakingsoda.shtml

•
11 Feb 08
Wow, I never thought baking soda has that many uses. I'm pretty convinced every single house should keep a can of baking soda in their kitchen cabinet and never run out of it. Why don't so many people know about this? I printed the article and I'm going to share it with my friends online. Thanks Zeloguy.

• United States
11 Feb 08
I keep AT LEAST five boxes of baking soda in my house. One in the fridge one in the freezer and then three in the pantry. I use it when I vacuum the floors. By using it to vacuum the floors it does a couple things. 1. it keeps odor out of the carpet 2. it also keeps the dust particles in the bag under control since baking soda is heavier than dust. 3. it is very easy to see where you have and have not vacuumed and if you have vacuumed an area enough. Baking soda... a great thing... and hey mix with vinegar and you have a mini-explosion (eruption really). I love baking soda, and it's cheap! Thanks Zelo

• United States
8 Feb 08
Ways I have used baking soda: Clean the water bottles for small animal pets. Clean horse buckets and feed tubs. In the wash to remove odors. Sprinkled in the bottom of cat litter boxes. By itself as a toothpaste when out of the regular stuff. If your Tupperware gets a bit of a funny smell put some baking soda in it and close it up for a few days. My mother used to spinkle it on the carpet and vaccuum it up before the commercially prepared carpet deodorizers. When cooking dry beans you can get rid of the gassiness like this: cover the beans with cold water, no salt or anything else added. Bring to a rapid boil and let them boil for 10 minutes. Remove from heat, do NOT drain, and set the pan in the sink. Add 1/4 cup of baking soda and stir like crazy. This will create a lot of foam (don't worry if it's greenish) and you should keep stirring until the foam is gone. It may get messy and foam over the top of the pot, that's why you do it in the sink. After the foam is gone, drain the beans and rinse them very, very well. Also you won't have to soak the beans if you do it this way. Cover the beans with fresh water and continue cooking as per instructions.

• United States
18 Feb 08
That was great! I'm going to try the bean thing! Thanks!

• United States
18 Feb 08
We use it as an anti-odor thing... Every week, when my kids bring home their gym shoes (and I DO require this...) we clean them and sprinkle with baking soda. Super deodorizer! Also, I make a paste with lemon juice, baking soda and salt and can scrub anything and everything out there, especially burnt on things. A little bit put in the dishwasher (along with the dishwashing detergent) aids in cleaning and taking out stains, as well.

• Philippines
8 Feb 08
there are over a hundred ways of uses of baking soda.not only as teeth whitening,odor removal and cleaning the kitchen.some of these are cleaning jewelries.Others use it to cure insect bites and stings.And baking soda is also used in small households as fire killing agents.there are so many ways of uses of this stuff,that's why in our kitchen there's always a baking soda ready ready to be used anytime.

• United States
31 Jan 08
lot more uses then we probely can even think of

• Canada
31 Jan 08
I mostly just know the ways that you've already said. I know that there are many more uses as well. I was reading my training manual for work and they said to use baking soda as a cleaner for the coffee grinder. We don't actually use it.. but it could be used thus.

• United States
31 Jan 08
When my son would get diaper rashes when he was a baby- I soaked him in a tub with a few tablespoons of baking soda- it's a gentle cleanser and it would clear a rash in a few days- by the next day it was always better. So my favorite use is as a diaper rash soak...

• Philippines
31 Jan 08
Well, baking soda is like a wonder power that can be use in so many ways... like my mother uses it for her laundry to remove stains... or when ironing clothes... i also read that it can be use to relieve one from itching cause by candidiasis (a female thing)... some even use it for rashes of babies... so most households have stocks of baking soda... i have a couple of boxes myself...