My goats just popped!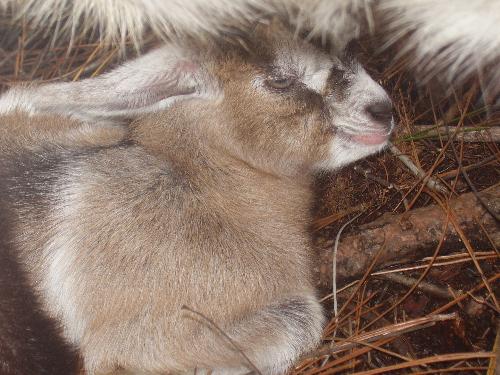 United States
January 31, 2008 12:54pm CST
I blogged about "Waiting for the goats to pop" on my adoption blog. Well, it finally happened. Here is a picture. If you would like to see more of this one and some of the other one, go to my adoption blog in my profile. Our neighbor's goat got our goats pregnant!The brown goat Allie is having major problems since giving birth to her adorable little girl. I have to go out to the pasture 3 times a day and pull her up by the horns and make her feed her baby. I had to help deliver the baby so, I'm a little attached to the little cutie. Plus, I may get to keep her. My husband doesn't want any boy goats. The gray goat Callie had an easy time and is up and running around all over the place with her little boy. He is sweet too! When I pick him up, he licks me on the face like a dog. I'm trying my best not to get attached to him. It's so difficult!
6 responses

• United States
31 Jan 08
That is awesome. Congratulations on your new babies.I hope Allie takes to Motherhood soon. My friends two goats will be having their babies soon. I hope your husband lets you keep the baby. It's hard to part with one you worked so hard to save.

• United States
31 Jan 08
I hope Allie gets better too! I just went to the vet today and picked up some shots for her. $108.00. I hope they work.

• Australia
2 Feb 08
It's not too difficult to desex a billy goat yourself with rubber rings and instructions from your vet. They make great pets too! My little girl is turning 2 in June this year! My avatar picture was taken about 6 months ago. She has taught me so much about patience and is not like any other pet I've ever had (and I've had a few!) I don't intend to breed her, but if she accidentally got pregnant (highly unlikely) I couldn't bear to part with the little cherubs! Don't 'kid' yourself - they've got you by the horns! lol

• United States
4 Feb 08
Ugh! You are so right! They are already so attached to me and they follow me around like little puppies. When I pick them up, they snuggle their little faces in my neck and lick me. They are SO cute!

• Australia
15 Feb 08
If you get them used to it at a young age, they will walk on a lead, love their bellies rubbed and even lay between your legs on their backs! Unfortunately, they still want to be cuddled on your lap when fully grown too though!

• Mexico
13 Feb 08
Goats as pets? You must have a big house in Florida! Are they really pets or are they for commercial purposes? You know, goat is a delicacy in some countries. And I know they make cheeses out of goat's milk. So it sounds like they're your pets. So sorry to talk about them like a piece of meat or dairy product.

• United States
13 Feb 08
It doesn't bother me one bit. I grew up on a farm in Mississippi and we ate our animals all the time. LOL My goats are pets, but they don't live in my home. They have a pasture that they share with the pig, the pony and the guinea hen who thinks he is a pig. I live in a double wide trailer on a little over 5 acres. I love it here!

• United States
1 Feb 08
That sure takes me back in time. It is impossible not to get attached to those babies. I used to feed them milk out of a soda bottle. If I ever find the photo of the twins I used to feed, I will post it here. They were so sweet. Normally there was nobody around with a camera then, so the one photo I have is choice. We were very low-tech when my family bred goats.

• United States
1 Feb 08
That's the way we feed our goats on the farm too. So far the Mama's are feeding their babies. I'm kinda worried that if the brown Mama doesn't get well soon, we will have to start feeding her baby for her.

• United States
15 Feb 08
CONGRATS!! I know its been a while. How are the babies doing now? Getting bigger I bet and starting to show there personalitys. Goats are so cute!! I hope all is going well with them!

• United States
15 Feb 08
Oh they ARE cute! They are away from their Mamas for longer periods each day and they are starting to play together. The little boy attacks the little girl and she runs away from him and then stops to wait for another attack.

• United States
16 Feb 08
LOL... I can see them playing like that. My dogs do that. One attacks and the other runs then waits for the next attack. There just like children. Im glad they are doing good for you. Have you decided on names? Are you keeping them?

• United States
27 Feb 08
I'm going to keep the girl but, I haven't named her yet. I'm waiting on my son to decide what he is going to name his daughter first because I wanted to name the goat Lilly and my son said he may be using that name for his daughter. I found a really good home for the little boy. I don't want to keep him because I don't want him to get the goats pregnant again.