Pineapple Tarts!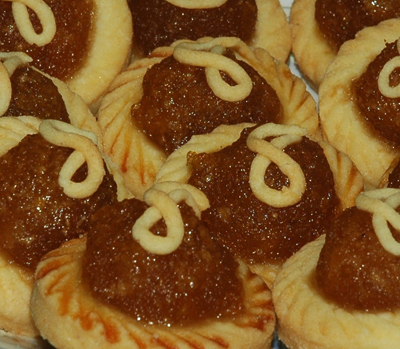 Singapore
February 1, 2008 11:47pm CST
A must have during the Chinese New Year! I love them little nuggets of gold and yellow. When you can get your hands on a really good pineapple tart, you will simply not stop till the whole box is finished. The sweet and fragrant taste of the caramelized pineapple, cooked with sugar and it own juices, swirling around in your mouth. The soft cookie that comes with it that simply melts in your mouth. Man!!! That feeling is simply heavenly! Like I said, if you can your hands on a really good batch of pineapple tarts, you like holding on to a little piece of heaven each time you pop one in your mouth! I practically make them every year without fail. For those following my threads will know that I have taken ill this year. Even though I have prepared the pineapple filling, I am too sick to bake any this year. Sigh... this year I will have to rely on my wife to buy some. Some how, those store bought ones are never the same as the ones that you bake yourself. How bout you? Have you eaten pineapple tarts before?
2 responses

• United States
2 Feb 08
They sound so good and yummy, I would love to have the recipe. I have never had any pineapple tarts and would love to try them. I do like pineapple. I hope you get to feeling better soon.

• Singapore
11 Dec 08
Thanks for the well wishes. It has been a good one year since I wrote this discussion. The recipe is really simple. Just grate the pineapples and then cook it with sugar till it is very nice an thick! It should take just a little over 4 hours over a slow fire to do that. Then roll them into little balls and then use cookie dough to either wrap them, or cut them into tiny bite size tarts and place the pineapple on top and bake them till the cookie dough is done. Then you get your delicious pineapple tarts to celebrate the new year with!

• Singapore
2 Feb 08
wow you are such a domestic talent! making it almost every year?! that's simply amazing. even my aunts have said that they are not making any this year cos it takes so long to stir and stir the pineapple to caramalise it. i sure hope the filling has not gone to waste, and that your mum or your relatives are taking over to make the crust for it! i have already ordered some pineapple tarts so my supply for the year is settled. those that are low qualtiy are really a waste of time to eat and put calories on for. i also love the sweetness of tarts. take care and get well soon!

• Singapore
11 Dec 08
Time sure flies when you are having fun! It has been almost a year since I posted this discussion. And it is about time to make them little nuggets of bliss again! I am still wondering if I should make some this coming new year. With the cost of everything going up, from pineapples to sugar to flour, I am wondering if it would be cheaper to buy them instead. But it is never the same eating the store bought ones compared to the home made ones. SO far, the best pineapple tarts I have tried so far are those from Mr. Bean. I sure hope the prices will be good this year!