which is ur fav rock band??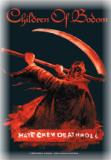 India
October 30, 2006 4:36am CST
my fav rock band is children of bodom... ever listened to them??? they r awesome.... which is ur fav rock band?
8 responses

• Romania
25 Mar 07
i now the band but and i listen two or four songs but my fav rock band is Haggard because i love ghotic bands

• United States
26 Mar 07
Yeah, Haggard is pretty cool. At first I didn't like the one guy's voice (the growly one), but now I can't remember why I didn't like it because I like it a lot. They're a very unique band.

• Finland
12 Jan 09
Somebody might be able to guess my favorite band... I once tried to listen to Bodom but I really don't like it that much. They have a few songs that are ok though but mostly just simply sucks. It might be pretty good if the singing was clean/cleaner but 'til they change their style, I don't like them...


• United States
24 Mar 07
My favorite band of all time is Metallica (just because their first 5 albums were so good, they haven't been as consistent since the 90s, but those early albums are enough for me), but Children of Bodom was a close second and is now kind of tied with them.

• India
11 Mar 07
my fav is cannibal corpse they rock all d time cradle of filth even even cob is good


• Saint Vincent And The Grenadines
11 Feb 07
It's still soon to say where CoB will reach, but they're one of the best metal bands worldwide on the 2000's with no discussion.

• India
22 Jan 07
my fav band is arch enemy...i like bodom too...