Two of the simplest crearures on the planet!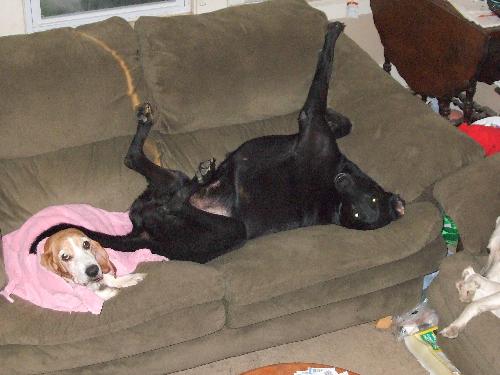 United States
February 2, 2008 8:26pm CST
My big mutt, Larry, has had an odd sleeping habit for most of his life: he'll roll over on his back and sleep with one or both legs stuck straight up in the air. His legs are so long, they look fake, like the ones they use in the "Air Bud" movies, so we call this position, "Plastic Leg". He also sleeps with his eyes open. Although in the photo, he appears to be looking right at the camera, he is sound asleep. It really creeps people out when they first see him asleep, because the open eyes make him look dead. Is this a pair of simple creatures, or what?
4 responses

•
3 Feb 08
OMG gardengrrl I cannot believe how cute they are! I want to steal them - I so wish I was closer and could pet them! My Niamh is a bit like Larry - she often sits up looking at you - she sometimes even walks about the house and all in her sleep! The scariest thing is when she starts crying or giggling in her sleep - it is just soooo weird! xxx

• China
3 Feb 08
I have not had a dog as pet,but I want to,and I like your larry.

• United States
3 Feb 08
Aww it sounds like you have good dog....I know how you feel though because I have a dog that we call happy(whenever he first came here we were trying to figure out a good name that really fit himand we noticed that he was always in a good mood and always was wagging his tail and trying to kiss people)and whenever he wants his water he will go to the chair look down and start to whine until he gets what he wants and before he can go to sleep he has to have his own pillow to lay on so we have to get off ours and give him one lol!

• United States
3 Feb 08
They look so cute, I see they have taken over the couch. Do they let you sit down. I have a houseful of critters. 3 cats, 2 dogs and 2 birds. The birds are in their cage. The cats like sleeping in my bed. The dog sleeps next to my bed, the other dog is just a puppy and is still being potty trained so she doesn't have the run of the house yet. I am sure when she does get to go where ever she wants she will be in my room too.