Do you own a bread maker?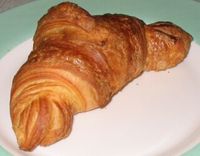 United States
February 3, 2008 2:47am CST
I bought my wife a bread maker a few years back thinking she would never use it and it is one of the tools that has been used quite a lot. She doesn't bake a full loaf of bread but allows the machine to knead the bread and then makes her own rolls, croissants, etc.... It is great because we know exactly what is going into the bread we make and can even expiriment with different recipies. She even makes pizza dough with it and makes her own pizza.
1 response

• United States
3 Feb 08
We just received one for Christmas....and have used it twice....I love it!

• United States
5 Feb 08
Great to hear that you love it. My wife uses that thing more than anything I think I have ever bought her. What she does is kneads the dough and mixes it and all in the bread maker and then takes the dough and makes rolls and other types of bread rather than just a loaf. Great response.