BMI -- fact or fiction.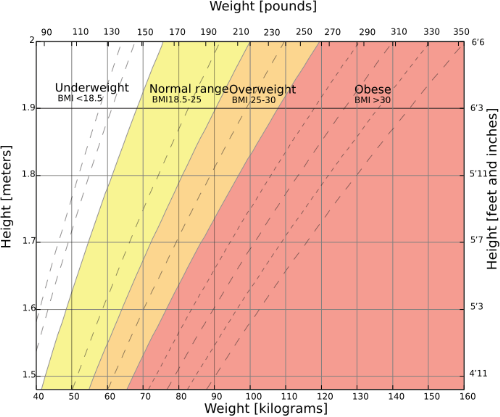 United States
February 3, 2008 3:03am CST
I have been told that for my height and body build I should be around 145 pounds and a 32 waist (if not a 30). The last time I was at that weight co-workers told me I looked sickly and that my clothes were hanging off me. I feel comfortable with losing a few pounds but that still doesn't put my BMI where it 'should be'. What do you think about these figures? Are they a good guide or bogus figures to try to make us all thin as rails?
5 responses

• United States
3 Feb 08
The chart is ridiculous. Even the weight at the top of the range would make me and my husband look sickly. I think there is too much of an obsession these days with weight. I realize there are plenty of people who are obese, and many who are overweight, but there are also people who are underweight. I think that if you feel good, don't get winded climbing a flight of stairs, and you can reach to tie your own shoes, you're fine.

• United States
3 Feb 08
BMI scale is very old. It was created in 60's. A lot change since, and I wouldn't look at BMI.... In fact, some skinny people have fat deposit instead of muscles... Based in BMI, I should gain at least 20 pounds and look like fresh donut...no, thanks...

• United States
3 Feb 08
According to BMI pola I am sure you are considered underweight and probably lead an extremely healthy lifestyle. My sister-in-law is the same way. She is not a veggie but does stay away from red meats and is very picky about what she eats. She is a size 0 according to the clothes that she wears which is ridiculous. She doesn't have ribs popping out and doesn't look unhealthy. We need to reevaluate this whole crisis of people being overweight and come up with a comprehensive plan. With you (and correct me if I am wrong) it is staying active (with your dogs and dancing to your jungle music) and eating right. If I had to guess I would GUESS that you are not a gym freak but may go maybe 1-3 times a week if that. That leads to the question of genetics and that is for another discussion

• United States
4 Feb 08
I am size 0 or 00... I am taking dance classes, yoga and Aikido. Gym is boring. I walk first than take bike, tan drive... I like to walk. Not only with my dogs. When in Europe, I always walk 10 miles per day... I eat small portions, eat slow and eat often... Eating vegetarian food, I don't have food come and I can be active. Generic? I don't think so. I believe in lifestyle, not genetics.

• United States
5 Feb 08
There was a study done I think it was all the way back in the '50s I would have to check... that said that masticating at slower rate actually allowed people to lose weight. Now I have a question for you. If you are BELOW a size 0 isn't that a little TOO small? Just asking not judging. As I say I have a sister-in-law that is a size 0 and the only reason she needs to buy clothes bigger than that is she has some shape (hips) to her. And yes I do believe lifestyle over genetics.



• United States
26 Apr 09
Well I think you look just great and a BMI of 22 is actually a perfect BMI. If you WERE to lose 5 lbs. that is where I have an issue with the BMI scale because then it would say you were underweight and I don't think 5lbs. would make you all skin and bones. On the same token I don't know about wobbling of fat on your body. Thanks

Zelo



• United States
3 Feb 08
Yeap, growing up I could swim oh... let's see our pool was 42 feet long and I could swim four laps underwater... so that is 168 feet. So if we did some math... that is about 40 seconds of underwater swimming at rigorous speed. Not bad with turns and all. I am not to say I was a Janet Evans who swam more than half the distance of the backstroke underwater and has today made the 'line' of where a swimmer has to come up for air commonplace in competition but I had some lungs. Could hold my breath for over 3 minutes. Track runner at school... long distance of course. And at that time I was 5'7'' and 135 pounds. What does all this mean? I was IN SHAPE. Incredibly in shape and was at my 'target' BMI. Who is someone who works for a living and hits the gym once or twice a week supposed to meet these ridiculous goals. Now at 35 my BMI is in the Overweight category and I eat no fast food, no soda, no candy or anything of that sort except on special occasions and I am OVERWEIGHT. At 5'9'' my BMI is 27.3! Nearing obesity. ANYONE who knows me knows I am not the slightest big near being obese. Heavy yes, but obese, uh no. According to the chart and BMI calculators I would have to lose 20 pounds just to be on the high side of Normal... crazy.

• United States
3 Feb 08
I agree that these are bogus! I honestly think it is the new hype or craze that just won't go away and I can't stand it. When you go to the doctor you never hear it only at the gym. I honestly prefer the new you need to walk 10,000 steps craze! Just wish I could get my butt in gear and do it.