Did you have a white Christmas?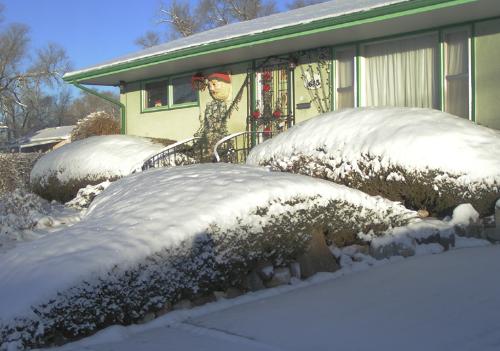 United States
February 3, 2008 2:05pm CST
We don't have snow in Florida, but I visited my daughter in Colorado in early January. I was excited that we got a beautiful snow while I was there. I got out with my camera and took more pictures of the snow than I did of my grandchildren! The song "White Christmas" has romanticised having snow over the holidays. I know many people think snow is a nuisance. What about you? Do you like it when it snows?
4 responses

• United States
3 Feb 08
i too am from florida ,a transplant from northern new jersey where we had snow from november until sometimes april and "i do " miss it.there's nothing better than waking up to a snow blanketing the yard and tree's. i lived there 48 years before moving to fl.10 years ago and only found it to be a nuisance for the 1st 48 hr's of shoveling my driveway but in a day or 2 the road's are clean and that beautiful white still covers the yard. i also miss the skiing and winter sports that come with it but being on the boat fishing makes up for it.

• United States
3 Feb 08
Every weather has it's good and bad points, I guess. I sometimes wish I could have two homes that I visit when I was in the mood for different weather and activities! Thanks for the reply.

• Germany
3 Feb 08
No, we did not have a white Christmas because we were in Egypt for Christmastime like every year. We are going to there because we do not like snow. It's better for us to enjoy the warm weather and the beach there.

• United States
4 Feb 08
Egypt sounds like a great place to be at Christmas. I would love to visit there!


• United States
4 Feb 08
I don't know how he does it. He manages to come to Florida even though many houses don't have chimneys! How about sending me a bunch this summer when we get into the 90's?

• United States
3 Feb 08
We didn't have snow and at Christmas time I do enjoy having snowfall. It just seems to make it seem more like Christmas. But a few days we had a dussy of a snow storm and in fact I was off of work due to the snow. It is a shame that this didn't happen at Christmas time. That would have been nice.

• United States
3 Feb 08
I sure all those people who have been getting those blizzards lately are wishing they'd never heard of snow! It does make it seem more like Christmas, though. I agree. Thanks for the reply.