Man's Best friend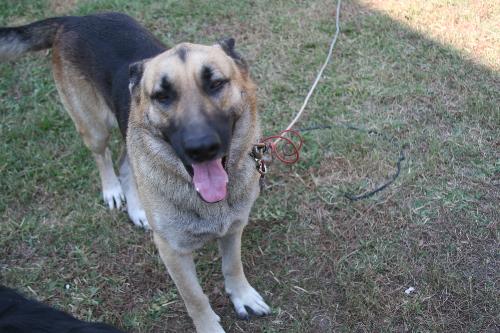 United States
February 4, 2008 8:34am CST
I have 3 German shepherds I really love them they are so smart and loving always want to be hugged and talked sweet to with there tails wagging. My male named Samurai always watches from the window when we sit and eat at the table as soon as I get up he runs for the back door. (out side dogs) And I'll trow him a bone. ofcourse the fighting begins when the other two see him go to the door. He know how to unlatch the back gate and excape so that stays locked! Digging holes, My female will not dig a hole but she will suggest to the male were to dig it and he follows her to the spot and can dig fast than I can run out the door sometimes. lol So he stays chained with about 20 feet of chain. far enough away from the gate not to let the other two females out. The male is carring and hubble and the oldest 6yr old female is very jeolous and wants food and hugs only for her self. three bowls of food and she will keep running to all three so the others will not touch it. She is so protective and want let others around me or my girls Once I was selling her puppies and a couple was in my back yard and the lady went to touch my daughters arm for whatever reason and my female dog just went in her face and started barking. Yes I did sell a puppy with them I quess that empressed the Lady. But now I tie them up when people are over just to be safe. Oh lord taking my German shepherds for a walk in the woods is more like taking them for a run, soon as they see something move. I had one dog walking on each hand and something in the woods moved and they both took off for it and I almost got slammed in a tree since both were going on opposite sides of the tree and I let one go to avoid being wood kill! lol I can't amagine being with out them there like my kids.
3 responses

• Australia
26 Jan 09
I have two gorgeous German Shepherds - one long-haired 11 year old sweet-heart and one short-haired 10 month old baby. I love them both enormously and wouldn't be without them. I don't tie or chain either of them at any time. I simply trained them that they're not allowed past my fence line. So they will sprint up to the fence but stop at the fence line. It didn't take long to teach them this. They're smart. My dogs love their walks every day. One loves being in the bath but the other one hates it.

• United States
26 Jan 09
I would love to live way out in the country so my dogs could run free and come and go as they wish, that would be nice. I had to put concrete on fence line to keep them from trying to escape. I'm glad your stay in the fence line. I enjoy hearing how others live with there dogs. Its nice we have the internet to keep in touch with strangers around the world. You enjoy your day! Thanks.

• Australia
27 Jan 09
We're in Australia, so our yard sizes are quite large I guess - but I don't live in the country. I live in the suburbs outside a major city. I love seeing and hearing about so many people around the world who love this wonderful, intelligent dog breed as much as I do.

•
13 Feb 08
Good to see another German Shepard lover, I have one called Jye, she is a long haired GSD, who is now nearly 12. I have to say I can relate to your fun and games you have with your dog, when Jye was a puppy she ate a sofa, rubber round my fridge, not to mention a pair of £200 boots!!! But now she is a senior lady and a bit more chilled out, that said she had her yearly bath yesterday and my word can she move when she wants to!!! Love to hear more about peoples GSD's Cat

• United States
14 Feb 08
I hear ya, Those baths you think you were trying to kill them the way they act but a lake near by they have no trouble digging a whole in the back yard to escape and running into. I gues its different if they get to bath them selves. lol Thanks for your comment.

• United States
4 Feb 08
I have a registered shepherd too. Aren't they the greatest?! Not only are they smart and loving, they are also faithful protecors. My shepherd's the same way with keeping an eye out on my little grandson. Heaven help the person who would ever try and harm him, she's right there hovering. I used to have a chain run too, but a couple of years ago I got a big fenced in kennel put in outside my back door. She loves it, and so do I, it makes letting her out to 'do her thing' a whole lot easier, especially in the winter lol.

• United States
4 Feb 08
Thanks for the comment. Yeah I will come home from work or in the mornings and let them all run loose in my 1/3 acre back yard and I just love watching them run back and forth just feeling free, And playing with one another, rubbing there backs on the grass, chasing squirrels, basking in the sun and shade. They make me happy when I am with them and secure.