you know you've watched Firefly one too many times...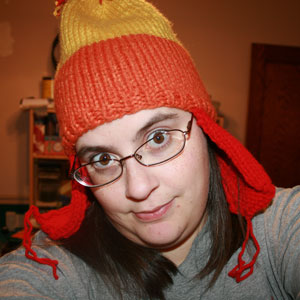 United States
February 4, 2008 1:05pm CST
when you start cursing in Mandarin, lol. I found a site that translated all the Chinese they use in the show/movie so I could add them into a fanfic I was writing. Some of the phrases were hilarious (they mostly aren't curses, just really funny stuff). I was practicing saying some of the actual curse words and later that night I accidentally screwed up something I was doing and started laughing when I cursed in Chinese instead of English. My husband now thinks I'm completely insane. I also knit me a "Jayne hat" in honor of the "Hero of Canton". I'm such a dork.
8 responses

• United States
4 Feb 08
Hey, I just have to say...Love the hat! (loved it on Jayne, too!) I once tried looking for a site that translated the chinese, but couldn't find one (that was several years ago and I probably didn't look hard enough). I've been known to quote dialogue to friends a lot...does that count as having watched it one too many times? (ah, probably not) Anyway, hope you got what you needed for your fanfic. Hey, my first post...hope it's okay I posted it here...and I hope it doesn't show up twice (I wrote a response and hit the wrong button on my keyboard or something and it vanished!)

• United States
4 Feb 08
Yay, on the first post! Welcome to the site. I haven't started quoting the show but I sing the theme song as I'm doing housework which makes my husband roll his eyes. I also tend to think "shiney" a lot and I've started saying it more and more. There's just something about this show that sucks me in. I suppose that's the point of sci-fi--to suck you into a different world. Joss Whedon is a genius. I didn't even know who he was in 2002. I never watched his other shows. Last summer I started watching Buffy and I was hooked. I have all 3 shows on DVD now and watch them constantly. http://fireflychinese.kevinsullivansite.net/phrase.html This is the site I found for the translations. There are several others but this one seems the most thorough.

• United States
5 Feb 08
Thanks for the link to that site. Some of those sayings were hilarious! I know what you mean about getting sucked in...I still watch his other shows too, (I read a while back that Joss and Eliza Dushku are working on something new now too, so that should be interesting) but there's just something about Firefly that I can't seem to get enough of, (probably because there isn't enough of it!).

• United States
7 Feb 08
Yes, Joss and Eliza are working on a show called "Dollhouse." It was supposed to premier in the fall, I think but with the writer's strike it's all on hold (Joss isn't writing during the strike). But Fox committed to at least a half season, I think. Still not sure why Joss is doing business with Fox after they shafted him with Firefly, but whatever. My husband is already salivating at the idea of Eliza having a new show. He still won't shut up about Tru Calling being canceled. Obsess much? LOL.

• Omagh, Northern Ireland
7 Feb 08
...when You use Firefly references for your handle ;)

• United States
7 Feb 08
teehee. Funny. I registered for some online game or something and used "Jayneshat" as my login. Yeah...I think I've lost it.

• Omagh, Northern Ireland
7 Feb 08
I'm still not convinced that's all from the 'verse,though... :) I'm thinkin,We'll rise again...

• United States
27 Mar 08
I got a Jayne hat for christmas! I love to humiliate my children and wear it in public ;-) "Gorram" has become a regular swear word in our household.

• United States
27 Mar 08
What's really bad is when you watch several show with their own curse words, so when you stub your toe it's, "what the frak is this gorram shoe doing in the middle of the ruttin floor? I'm gonna break my frelling neck!"

• United States
5 Aug 08
Wei, You go girl with the hat! Looks cute! No I dont think you look like an insane hun dan with that hat, you look cool. I love that Ballad of Jayne song. Dong mah?

• United States
7 May 08
There's no such thing as watching Firefly too many times. I have all the episodes on DVD and of course, the movie Serenity. I know you posted this some time ago, but I can't pass up anything with Firefly in it. I love the poem in the end about love. I watch the shows over and over because I like River. What do those curse words mean?

• Philippines
27 Feb 08
You may consider yourself a dork but you are such a cute dork. LOL! I love the Jayne hat too and looks so good on you. Though Firefly isn't aired in my country, I would certainly would love to watch it if ever it gets syndicated here. I find coursing in Chinese cute too and come to think of it, I may be a dork too.

• United States
26 Feb 08
When watching "I Am Legend," there were 2 quotes that ran though my head OFTEN. (I won't mention them just in case they're semi-spoiler-ish for "I Am Legend.")

• United States
3 Jul 09
Thanks for posting the link! I'm actually watching Firefly right now (the Out of Gas episode) and was hoping someone had posted the Chinese translations. And here I found your discussion! Thanks again!