bangs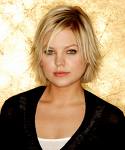 United States
February 4, 2008 8:15pm CST
I think I have had bangs of one sort or another all my life. In high school, I had a sort of Lady Di hair cut with the shortish sideswept bangs. Then I moved into more of a bob with straight bangs. I saw a hair style on TV that had the side sweep bangs and just can't seem to get my bangs to go to the side again like they did in high school. Is it a lost cause or is there some trick (besides barretting them over) that will encourage them to cooperate?
4 responses

• United States
5 Feb 08
if you keep pinning them to the side (especially while wet or with product in them) it should eventually train them. my hair parted only in the middle for 20+ years and now even i managed to have side swept bangs, so i know it's possible!


• United States
6 Feb 08
I've always worn bangs and have trouble sometimes making them go the way I want them to. As soon as my hair starts growing too long, it won't go right, so make sure that it's the right length to go to the side. Or, try blow drying them the way you want them to go... after putting some type of styling gel or mousse on it. That might work.

• United States
13 Feb 08
I went today and got them trimmed. The stylist razored them a bit to help them feather to the side a bit. She said that the reason I was having problems making them do what I want is that I have a lot of hair and it's too heavy to go that way without help. So, since they are shorter and lighter, I hope this helps start the training process.

• Canada
6 Feb 08
After you get out of the shower or whatever, when your hair is still wet, brush your hair and put your bangs to the side you want them on, if thy don't want to stay there, secure them with a bobby-pin. If your hair drys with your bangs to the side they should stay that way after it is dry.