InBoxDollars Payout Proof

United States
February 5, 2008 12:46pm CST
I've been impressed with InBoxDollars since I joined as they offer 3 cents per email and give you lots of ways to earn more every day. I've earned a few extra bucks doing surveys and even a few for playing games. Doesn't take much time out of your day to stay active and earn a little more towards another payout, even if you do this part time like I do. I just got another check from InBoxDollars! This is my second payout from them since joining a few years ago. When I got the notice that I had a check on the way I had another surprise, I've now EARNED my GOLD membership! How cool is that? It looks like InBoxDollars has been busy making changes to their program recently and I have to say I like the improvements. I know I've seen other member comments with regards to what's changing, so it seems they do listen to member input. In previous years you only got the promised $5 referral fee once your referral had requested payout. Since many found the $30 payout too hard to reach, they'd quit or become inactive and get deleted, along with the referral bonus. They've recently changed this and it looks like we now get 10% of their earnings, AS they earn it. Now, if your referral is active, you get to see the boost in earnings right away, instead of IF and When they decided to cashout. Another change is that you can no longer buy an upgrade. As of the first of this month, you can only earn a gold membership by getting a check on or after 2/1/08. I sure am glad mine qualified as I'll be getting random referrals as a GOLD member! I only have 3 referrals now so we'll see if the Gold membership helps me as much at InBoxDollars as it helped when I got a Gold membership in E-MailPaysU.:) If you're already a member, what do you think of the changes? Have you seen a boost in earnings from your referrals since this changed? Have you earned your Gold membership yet? If you Paid for a Gold membership, how do you feel about these changes? PS Both payouts can be seen here http://apaidreader.googlepages.com/InBoxDollars.jpg and I'm attaching a copy of the check I just got for those of you that like to see the payout proofs.:)
9 responses

• Indonesia
16 Jul 11
i already member to this site, unfortunelly, so limited offer for NON US member. we just got 3 task that can earn money from this site. any good site like inboxdollars,that have many way to earn money for everyone. not just for US member.

• United States
16 Jul 11
Hi fenshu. There are several sites with location restrictions that can limit your earning potential. Since I have a considerable number of international friends I am aware of several good sites that offer opportunities that aren't so limited. You may want to look at the banner on my profile for FreeMoneyTeam. They have a good collection of sites international members can earn from. It's a fairly small collection but it's nice to earn from several sources to keep you as active as you want to be. I like the selection because I work full time and participate nights & weekends. The sites included in this collection allow me to maintain my accounts since the activity requirements aren't too strict. InboxDollars is just one of the sites I participate in. I have been a member there for several years now and have always received on time payouts, so I have retained them in my collection of online earning sites. Since you like doing the tasks there, do you use any of the other options like the paid videos? They're still so new I sometimes I forget they're there.

• Indonesia
16 Jul 11
Paidreader, thank you. i used the paid videos as well, but today i talk with the live support for inboxdollars, they said video and search on inboxdollars toolbars not for non US member. to bad :( so i think we kept searching new site that pays non us member.

• United States
15 Nov 09
Wow that sounds great! I only recently started using Inboxdollars, but so far I have about $6. I've been using SendEarnings a lot longer than Inboxdollars and am now $5 away from my check, without referrals! I'm quite excited. I mostly participate in offers or surveys. I haven't tried the games yet, partly because it requires Internet Explorer. I'm afraid I'll get viruses. =/ Have you noticed anything fishy when playing the games?

• United States
16 Nov 09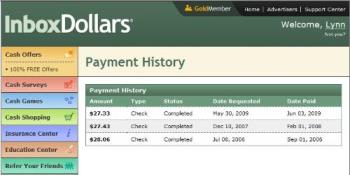 Sounds like you're doing well in both. I've now been paid by InBoxDollars 3 times and I'm only about 50 cents away from my first payout request at SendEarnings. As you are probably aware they are both run by the same company and have very similar terms. I am hoping that the payout at SendEarnings is as fast as my last one from InBoxDollars. As long as you can request payout before the end of the month it takes less time to get your payout. Take a look at the payout history I have attached to see what I've discovered. It's important to consider the timing of your payout request because just a few days one way or another can really make a difference in how long it will take to get your check

• United States
16 Nov 09
Wow interesting. Thanks for sharing this information with me!


• United States
16 Nov 09
Hi calyxus. Sorry for the delay in replying. Yes, they only offer payout by check.

• United States
29 Jun 09
How do i make an easy 30.00 on there?

• United States
29 Jun 09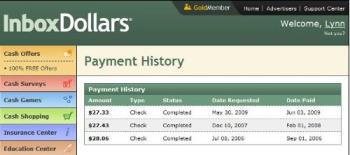 All you have to do is sign up and start reading the emails. They are paying 2 cents each now and no referral earnings but they do pay. I recently got another check from them so I know they are stil paying.

• United States
11 Aug 08
I don't like the new system. It is totally unfair to those of us that paid for Gold Memberships. I had four Gold Memberships and had 156 referrals. Prior to the new program you got 3 cents per paid email, 1 dollar per completed survey, and a percentage from the paid emails that your referrals read. Since the new system went into effect I have seen my referrals drop from 156 to 68. Plus you only get 2 cents per paid emai, and 50 cents for completing a survey and nothing for the emails that your referrals read. My referral count continues to drop EVERY day...never an increase. So here I am...I paid $17 for each of the 4 Gold Memberships...that's $68 and I'm only getting referrals that are the equivelent of 1 Gold Membership just like everybody else that paid nothing like you. I would like to hear from some other members that paid for the Gold Memberships

• United States
5 Feb 08
Thanks, paidreader, for talking about the recent changes in InboxDollars. I too can verify from personal experience that they pay. I have just earned payout again but what I wish is that they would offer a Paypal payment option. In any case, I got 4 referral bonuses in one day, and I really liked that!

• United States
5 Feb 08
While Paypal payouts are nice, I've been seeing alot of sites that are having PayPal problems recently. It seems that if there is a referral program involved, paypal objects, so, for now, I'm glad they still pay by check, even with the $3 check processing fee. ;)

• United States
5 Feb 08
Congrats! i like that they change their program a little bit, i knew about the referral program change but not about the gold membership, that is a great change. I think I have 4 referrals on Inboxdollars right now, I have actually made a good amount from just their emails since they have been sending more and have changed how you view the emails as well. I also complete the $1 surveys on there, sometimes I qualify sometimes I don't but it isn't that hard to reach payout. I also was paid by Sendearnings as well, I got my checks back in November, I want to reach payout fast now that I know I can get a gold membership! •?•Good Luck•?•

• United States
5 Feb 08
It's not always easy to qualify for a survey, but they have several you can try for each day. You get a sweepsstake entry even if you don't qualify, so I keep trying, lol. They're always a nice bump in earnings when you do get one too. :) Best of Luck!