So Excited!


Philippines
February 5, 2008 9:53pm CST
My cousin gave me a yellow labrador retriever! I will have the puppy tomorrow. My cousin said that he will have to get my puppy vaccinated first. Oh dear! I am so excited! Not that I never have had dogs in the past but I am really so happy to have a new dog. I can't wait until tomorrow but I know I just have to be very patient because the shot is important for the puppy.
9 responses

• United States
6 Feb 08
Well congrats on the puppy dog and I hope that it all goes well for you and I am sure that it will go well for you...I ma not sure that I would get the dog vaccinated the first day that I got him unless there was something that coudl be wrong with him or something like that because I think that the puppy would want to settle in a little first and if you give it the first day to do that I think that the puppy would appreciate that alot more becaues he starts getting more use to everyone and feels more comfortable

• Philippines
6 Feb 08
The puppy is two months old. It was love at first sight I would say. *winks* She kept wagging her tail when I saw her and she just wanted to play and play! Few minutes before I had to leave her with my cousin, she just stayed on one side of the sand box and stayed still as if felt that I was to leave her behind.

• United States
8 Feb 08
congrats on your new puppy... I am getting my new puppy tomorrow he's an all white Siberian Husky. I wish luck love and happiness with the new addition.

• Philippines
8 Feb 08

Wow! I would like to have a Siberian Husky too! Have you seen the film Eight Below? I love that movie. When I saw that I said to myself that I am going to have Siberian Huskies one day.=)

• United States
8 Feb 08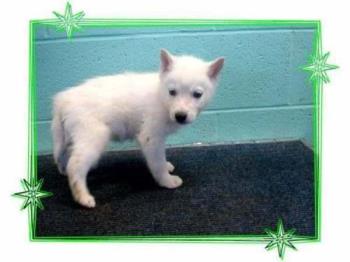 Funny that you should mention eight below. You Remember Shorty from eight below the all white Husky. Well my Puppy is his nephew. I spent 800 on the pup and will be paying another 200 when I pick him up tomorrow for breeding rights. LOL!! If you go to my site and look at my discussion about getting my pup tomorrow you will see a picture of my pup Frost. LOL!!! here is the link to the kennel I got my puppy from. http://www.lauradalessiberians.com/Four of the pups from Eight Below were born at their Kennel They still have Mojo who is Truman. LOL!! Check it out I think you'll like it. I know that I was very impressed with these people and Lorri and Laura are very nice we have been emailing each other back and fourth about Frost until I get him tomorrow. LOL!!!

• United States
8 Feb 08
http://www.lauradalessiberians.com/ Correct Link sorry the word Four got into the link .. that is supposed to be the start of a new sentence.


• United States
14 Feb 08
Congratulations! I have a black lab. He is 7 years old. Labs are the best dogs! They are so sweet and lovable. If you haven't already, get some good training books and refer to them a lot. It can be a long, arduous process. But, in the end, it is worth it. And, once your dog is trained, make sure to give them little reminders of their "tricks" and manners by reinforcing them now and then (maybe every 6 months). Just work for about 5 or 10 minutes with your dog and with treats once every 6 months. My dog tends to forget his commands if he isn't reminded that they are a good thing to listen to and treats are the best reminder. They have to be bribed sometimes. But, labs are a people pleaser breed so, they are usually among the best behaved and easily trained breed. Congrats again! Do you have a name picked out yet? My dog's name is Frizbee.

• Philippines
15 Feb 08
Mine is a yellow lab. Her name is Ginger. Thanks for sharing me some tips! I really appreciate it!

• Atlantic City, New Jersey
16 Feb 08
Congratulations on your new addition to you family ;) Dogs are great pets- always remember they are full of energy- and must be able to exhert that- so make sure you walk him often and play- because if not- he will find other very constructive things to do such as your chew up shoes or doorways (I have personally been through this before adding more physical activity to her daily routine).

• Philippines
16 Feb 08
Thank you for your advice. Yeah, she's got lots of exercise! When she comes with me to work, we often run around the parking lot. She loves it!

• United States
8 Feb 08
Congrats on your new arrival! Yes shots are very important! But be patient...your little friend will be there soon enough!



• United States
6 Feb 08
Congrats on the new Pup! The shots are really importiant. Make sure you get the next set on time. They need 3-4 sets of shots over 3-4 months. If you get the first set and wait to long for the second they have to do the first again. Make sure you get a good vet and get that baby in there every month for new shots like rabies, distemper, lyme, ect... Also if you arnt going to breed the pup them get it spayed or nutered as soon as possible, around 5-7 months old. The sooner the better. Spaying and nutering helps the dog from developing cancers and such, and is better for the dogs health. Good luck with your new baby!!

• Philippines
6 Feb 08
Thank you very much for the reminders. I will keep that in mind. My cousin is a good breeder. He is one of the well-known breeders here in our city so I believe I am backed up by good hands! Thanks again!

• United States
14 Feb 08
Sounds like you will have a great pup. Thanx for the Best response. So Im assuming the pups home now, hows it going?

• Philippines
16 Feb 08
Wow your dog is cute. That's the kind of dog I want. When I have money, I will buy one for me. Take care of your pet with all the best.

• Philippines
16 Feb 08
Yeah, really cute! Update me when you get one. Thanks!