Favorites??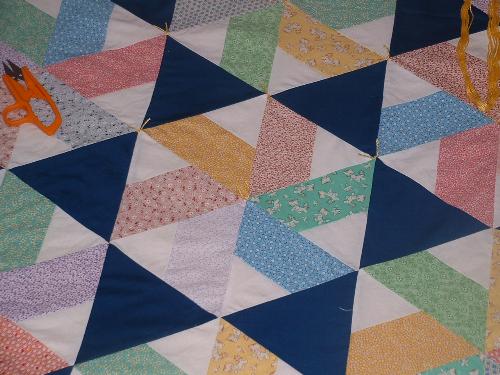 United States
February 6, 2008 11:54am CST
Every quilter has his/her favorites. I'm just curious about yours... Favorite size quilt? Favorite block? Favorite quilt shop? Favorite online shop? Favorite quilt magazine? Favorite quilt? Favorite colors to work with? Favorite quilt "celebrity"? Mine are all pretty simple. My favorite quilt size are crib quilts. They are a little bigger than wall handings but useful for cuddling... beside crib quilts usually mean babies, and I love babies! My favorite block is the sawtooth star. It was the first block with Points I made, and I did a pretty good job with it. My favorite shop, is one I just found. It's called the Quilter's Window and in New Hampton, IA. The staff is just as friendly as can be, and helpful, even the customers that I met all had a smile and word of advice for me. It's always fun to pop in when someone is there for a show and tell, too!I haven't found an online shop that I don't like. It's hard to pick just one. I suppose, though, I order most of my fabrics from joanns.com. My favorite magazine is "For the Love of Quilting." --a Fons and Porter Magazine. I love how they display the quilt in their photos. Also, their directions have never led me wrong. Most of my quilts are F&P inspired. My favorite quilt that I made is my ONE BLOCK QUILT. This is just that... One quilt block, blown up to make a queen size quilt. (I have a photo in my picture album if you want to take a look.) I also love Double Wedding Rings. I've only made one block, and it's in my portable quilt frame. I'm hoping someday to actually finish it, and make a pillow. Someday, when I'm not on Yuwie, I'll make a whole queen size DWR.:) Now for the fun choices of colors. My absolute favorites are the bubble gummy brights. I made a quilt for my daughter out of bright blues, purples, greens, and pinks, and it's gorgeous! It's in the UFO pile right now, waiting to be finished quilted. It's about 1/3 of the way done. (Not bad for 4 years "hard" work. LOL) My favorite quilting celeb is John Flynn. He's a guy that gets my hubby's sewing interest peaked. I love the fact that he's an engineer and brings that knowledge into quilting. My husband loves to see his appearances on the shows we watch (fons and porter) to see what new invention he has come up with. It's cool to see him, and start thinking "If he can do it, so can I." I've gotten a lot of neat gadgets that way.:) If you have any other favorites that I forgot to ask, feel free to ask them. I would just like to get to know you all a bit better. Take care all!!
1 response

• United States
8 Mar 08
Applique was always my favorite. I haven't done in years, but I want to make a "T-shirt" quilt using the front of t-shirts from my grand daughters. But I only heard general about it and can't find any info or instructions other than the very basic, which I can figure that, I want to know the details from a quilter! Anyone know about making a "t-shirt" quilt?

• United States
14 Mar 08
Hi coffeebreak! A t-shrit quilt would be a wonderful keepsake for your granddaughters. Here's a link that I found for you.. http://www.straw.com/quilting/articles/teequilts_how.html It looks to be pretty easy thing. Just make sure you fuse the t-shirt so it doesn't streatch out of shape. Another great forum for quilters is on about.com. Here's a link to this forum. http://forums.about.com/n/pfx/forum.aspx?nav=messages&webtag=ab-quilting Then men and women here are incredibly helpful! with everything and anything you ask!!! Best wishes, and good luck with your quilts. :)

• United States
14 Mar 08
Thanks so much. I will check it out. I got the template last week and will be getting the cutter this week so hopefully can start next week!