Would You Help a Baby in Need?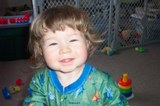 United States
February 6, 2008 2:36pm CST
I am not one who would normally answer the call for money. We have our own money problems. My husband works long hours and too far away for me to have our only car, and it usually drives me crazy when people ask for money when they are in similar situations with debt, money, finances, cars, and all that jazz. Top it all off, my mom lives off of us and lately her medical needs have been dragging us way down. But a MyLot friend, lecanis, has a different need. Oh she has all the normal issues that many of us face. But her son has seizures. I can not imagine how horrible that must be. He has been sent to see a specialist in a couple of weeks. The doctor is in the neighboring state and the trip will require gas, food, and hotel stay. They were going to use their tax refund, but for reasons out of their control they aren't getting it. It is a trip they really can't afford to not take since their young son's health and very life are on the line. She shared her story with us, but in reality I think this is a situation that calls for more then our listening ear. It was my idea that she set up an account at fundable so that she can get some help with this. If we all give just a little we can make it so that her son can go to the doctor. I know many of you don't have a lot to give away, I don't either. But this is one situation where your little bit could help a child. Would you help a baby in need? It takes just ten dollars from your PayPal money. If we can raise the entire amount ($200 though I think we should aim higher then that) then we pay, if we can't then none of us pay. It is that simple! https://www.fundable.com/groupactions/groupaction.2008-02-06.0267549649
4 responses

• United States
7 Feb 08
Let me tell you, that what you have done, warms my heart. It shows that people really and truly care. It would be really neat to see a real heartwarming response. She is also on my friends list, and I have been trying to help her think of other ways to get the money. I hope she gets it. As a parent of a special needs child, I know what it is like to never be able to get care in your own area. We used to drive 6 hours to a shriners hospital to see an orthopedist. It had to be an overnight trip, as he could not handle the drive to and from. It is really a challenge sometimes, and a sacrafice to be able to get what they need, and get them where they need to be. Thank you again, and I hope she gets more than she is asking for.

• Cambridge, England
6 Feb 08
I don't really know Lecanis but I do know that her responses in discussions are thoughtful, caring and, above all, show integrity. This is something that you need have no problems with giving to, if you are able. Here is the website (MyLot, for some reason, has problems with making links of anything that begins with 'https:// ...') http://tinyurl.com/ytvb6t By the way, 'https://' means that it is a secure site and that making a pledge (payment will not be required till the target is reached) is safe. The site accepts PayPal as well as the normal credit cards, so if you are about to be paid by MyLot this month, why not dedicate some of your earnings to help this dear little lad? The 'Pay it Forward' principle is something you might think about ... giving what you can just afford to someone who is more in need than you. They will then be inspired to do the same for others. (The principle in the novel by Catherine Ryan Hyde says that you should 'pay forward' to three people who will then do the same for three in their turn. It doesn't have to involve money but you should pay something that 'costs' you something or is from a skill you possess!) The idea behind it is that one does something for someone else without expecting to be 'paid back' but with a committment to 'pay forward'. Everyone, even the poorest amongst us, has something to give, did they but know it. Charity is not something that you 'don't know how you can repay'. Once you start thinking of what you CAN do, you will find someone to 'pay it forward' to!

• South Africa
7 Feb 08
this is a good cause i will love to be part of it give more details please

• United States
7 Feb 08
If you follow this link http://tinyurl.com/ytvb6t you can make a pledge using PayPal or your credit card. If we come up with all the money then everyone pays what they pledged. If we don't come up with all of the money then none of us pay. Your pledge can be $10 or more and every little bit will help!