Age of a dog and its equivalent

India
February 6, 2008 10:34pm CST
I think we can equate one year in a dog's life to six years in the life span of a human being. For example, a five year dog has an equivalent of 30 years in human parlence.Incidently my Labrador has recently passed my age when equated. so now I give him more respect!
4 responses

• United States
7 Feb 08
ranji's statement is a bit on the general side. A dog's life expectancy depends on a number of factors including breed, size, lifestyle, care, feeding, etc. Great Dane's typically only live 8-10 years while it is not unusual for a Cairn Terrier to live 15. In addition, mixed breeds tend to live longer in general due to the fact that they are less likely to be genetically predisposed to diseases and other life shortening conditions.

• India
7 Feb 08
you are right. the scale I mentioned is the general average.I think dog's lifespan is usually between 10 to 16 years.If we multiply it by six we will get the usual life span of human being.

• United States
7 Feb 08
my dog is four years old..and that is 29 years old in my vets book

• India
7 Feb 08
The lifespan of different species do vary. But it is usually between 10 to 16.I think the realistic lifespan of human being is also 60 to 96 .

• United States
7 Feb 08
you are right..it would be 10 to 16 years.. i was talking if you converted dog years to people years..my vet gave me a chart on how dogs age..four year old dog equals about a 29 year old man/women...it differs with breeds...sizes..as big dogs tend to not live as long as little dogs..

• India
7 Feb 08
My dog is now nine years old. Usually the life span of dogs vary from 10 to 12 years depending upon the variety. This will usually be determined by many factors such as how the dog is cared for and the genetic make up of the dog whether it develops any health problems or sooooo..........just like human being.


• United States
7 Feb 08
I read this on a sign at the vets office: One year to a small dog like a pug is equal to 5 human years. In a medium dog like a shepard one year equals 6 human years. And in a large dog like a Great dane 1 year equals 7 human years. Smaller dogs have less stress on there bodies than bigger dogs and tend to live a few years longer. Small dogs generally live for 12-18 years where a large dog might only live for 7-10.

• India
8 Feb 08
hi copperkitten, you r right.but the reason for the difference may not b stress. dont u agree?

• United States
8 Feb 08
It may or may not be because of stress. A bigger dog grows much faster than a small dog. There bones and joints are subjected to alot of stress during growth. Thats why most big dogs have hip problems. What do you think?

• India
11 Feb 08
hi, it may be due to difficulty in giving proper environment for exercise, recreation etc. however I do cocede that u may also b right

• Canada
7 Feb 08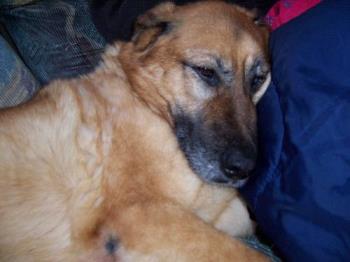 Actually our vet told us that a year in a dog's life is the equivalent of seven in ours. Our dog Tasha lived to fifteen and a half years. She was put down on Janurary 14th and in our estimation that made her around 112 years if she had been human. She is sadly missed and it is good that you are giving your dog more respect...they deserve that. I have included a photo of our precious Tasha...our precious furry family member. Raia

• Canada
7 Feb 08
Not sure what is happening with Mylot these days. Every time I include a photo it doesn't show up. Oh well I tried! Raia

• India
7 Feb 08
If you take it as six instead of seven, it will be 93 instead of 112. dont you think it more realistic? Further the lifespan of dogs vary with size, breed etc.I think the scale I proposed can safely be taken as a general guideline. regards

• Canada
22 Mar 08
Whatever the age...Tasha lived a good life into 15 and a half years...in DOG years. The equivalent may be debatable...but it really doesn't matter too much to me. Quality of life is all that matters in the end. Thanks for the best response. Glad to see the photo showed up after all. We miss her..but she is no longer suffering. She lived long and well while she was here. Raia