"INDIA must keep Dravid in the team"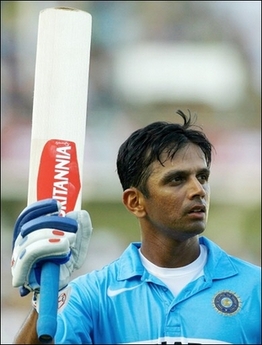 India
February 7, 2008 2:54pm CST
Indian team must always have the player like Dravid, He can play a big role to keep the wickets on one end, Young players are not enough patient to hold their wickets. First match against Australia is a good example for that. Although he in not in the middle of a good form , he can gain some form when he plays in a big series like this.
8 responses

• India
13 Feb 08
Give sehwag 10 chances he will shine in 2 and give drawvid same number, he will perform excellent in 6 or 7. Yuvraj singh seem be thinking all the time about deepika padukone rather than playing properly. His dismal performance in test seem to be continuing in one day.

• India
17 Jul 08
No need to keep him in team if he is out of form, many youngesters are knocking the BCCI door. India having more talented crickets in the state levels, let them get opportunity to serve india.

• India
13 Feb 08
Dravid should have been in the team. b'coz he is best slip fielder of india.also he is the best middle order batsmen. now the indian team is facing problem with middle order.dravid should have been there.

• United States
10 Feb 08
yeah i agree with u friend.....team india lacks a sheet anchor -who keeps scoring runs at decent pace,very much required in the middle order....... at present dravid is injured(i know he has been pt aside by selectors).....also we need to fine the replacement for the legend.......i think rohit sharma has the caliber to replace dravid.......he has good technique.....he can do well in future for india in tests and odi's as well..... dravid still is good enough to support team by doing the role assigned to him.......

• India
8 Feb 08
India have to include both young and experienced players... Young players are the most plus point of any team...so we have to build a team with young talents..For this we have to programme deep searches through out the country... But At the same time there is an important role for experienced veteran stars...They give the inpiration and experience to the young also... So we have to made a team with giving importance to this facts...

• India
8 Feb 08
Dravid is ok for the test team but difficult in the oneday. Because he is a very expensive player in one day criket Just like Ravi Sastri in 1980's. That day always the newspapers had headline like this- " Sastri is in Form but india Failed"

• India
8 Feb 08
Dravid has been playing the sheet anchor role for india for years now,after playing 300+ one days and averaging 40+ he is certainly a class apart and having his fitness maintained age should not be a reason to bar him from performing. We must remember the sacrifices he has made for the team in terms of being a keeper when he could have just concentrated on his batting then,such players are always assets and his temporary bad form can only be corrected by making him play more and more matches. Most importantly he has the requisite patience to play in a batting order collapse situation.He is a player of charater and has pulled out India from tough situations many times moreover having such a fantastic record overseas we need such a player in the team as they say nothing can match class and experience.

• New Zealand
8 Feb 08
i am great fan of Dravid ..i think he should concentrate on test matches more than one dayers ..as long as he is test side i am really happy ..not too fussy about ondayers though ...