Singapore Zoo Ah Meng has passed away=(

Singapore
February 8, 2008 8:06am CST
Ah Meng, the Sumatran Orang Utan that was considered an icon at the Singapore Zoo, just passed away today (8th Feb 2008). She was 48 years old and had likely died of old age. In 1971, Ah Meng was confiscated from a family which had illegally kept her as a pet. She then found her home at the Singapore Zoo. Ever since, Ah Meng became very popular in Singapore Zoo. She was the Singapore Zoo mascot and became a celebrity, both locally and internationally. She had been featured in over 30 travel films and 'interviewed' by more than 300 writers. In 1992, Ah Meng received a special award from the Singapore Tourism Board in recognition of her contribution towards tourism in Singapore. Ah Meng also contributed to the Singapore Zoo's captive breeding programme. She had five children and became a grandmother in 1990. Singapore Zoo will hold a memorial for Ah Meng before the burial on Sunday at 11am. I am very shocked and feel very sad reading about her death. She had left beautiful childhood memories for me. I still remembered my first experience visiting the Singapore Zoo when I was 4 or 5 years old, I took a picture with her. Initially I was afraid of her as she was big and hairy. However, her friendliness helped me overcome my fear and I had a happy time taking pictures with her. May Ah Meng rest in peace. God bless her.
3 responses

• India
16 Feb 08
didnt knew much about Am meng, but the news was here in papers over here (india) too.


• Singapore
22 Feb 08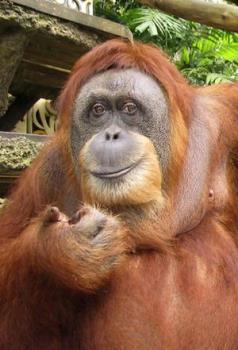 I just read in the papers too! I was really really busy the past few weeks and have not been able to catch up much here. Even reading the papers was a luxury. I was clearing my past week papers that I have kept. And I came across the article about Ah Meng's passing. I have met the great grand mother ape many many years ago... when I was just a little boy. When ever the Singapore Zoo is mentioned, Ah meng is a must-see to who ever is visiting the zoo. It is indeed sad to see the passing on of a Singaporean icon!