U.S. Troops Asked If They Would Shoot American Citizens.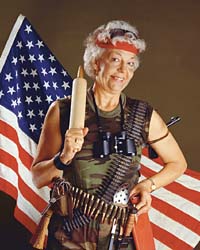 United States
February 9, 2008 12:15pm CST
So there you have it - Homeland Security are working with local police departments and religious leaders to prepare for the declaration of martial law and in particular developing techniques they will employ during the crisis to "quell dissent."I came across this blog and it was hard for me to believe what I have read, but step by step, all information was conformed. http://mparent7777-2.blogspot.com/2008/02/us-troops-asked-if-they-would-shoot.html P.S. Disclaimer: Please don't send me personal attacks. There is a big difference between American citizens and corrupted government. This post is not about wonderful American citizens like you and me.
7 responses

• Pakistan
10 Feb 08
Hello polachicago, What you said is most probably true but it won't be that simple, let me tell you. It's not just American Army; Armies all over the world are prepared for special jobs. Soldiers are trained to 'obey' the authority come what may, without ifs and buts. No questioning is allowed and it is actually, and understandably, 'required' given the nature of their job. Upholding the constitution, rights and wrongs, what to do and what not are responsibilities of commanders to think about and soldiers have nothing to do with these things. War can't be won; a country can't be defended, if the soldiers are allowed to think for themselves. Don't take me wrong but it's a need and a reality. When Bush was elected for the office, it further faded my belief and confidence in democracy. I am not saying that democracy is wrong; I hope you understand what I am saying here. He had no good academic records, has lowest IQ among all the presidents of America till date, even lower than average Americans. When I saw his debate, he proved himself ignorant of many international affairs. Still, he got elected. That speaks volumes about American electoral maturity, if not the maturity of Americans, individually. I think of him as a stooge of some power hungry elite in America. Worse yet, perhaps, given his intelligence, he doesn't even know that he has been and is being used. That brings me to the real point here. While I understand that sometimes there is a need to impose martial law (Some of America's most stabilizing periods, for the good of her, were when constitution was suspended or brought to a halt i.e. Martial law was imposed (practically) whether or not it was declared), I also see that it won't be that simple, it may even trigger a civil war. America is 'officially' under continuous state of "emergency" for decades now without the state being lifted for a moment. Given American record in recent past, it's involvement in some international tricky problems, it's losing it's control of world, emergence of China, reemergence of Russia, reshaping of middle east…everything is calling for a radical change just around the corner. Though history take turns slowly, but any event in present situation can trigger a scenario when America will sharply go downhill. Another Recession of epic proportions, Iranian Oil exchange program, China, Russia, India and Iran getting together can surely bring a situation where one may need to call, "Desperate times call for desperate measures". That's how I see it. Military is needed to be well prepared for any fall out in international arena and that's what they are doing. Imagine a situation where indigenous people of America declare that they are now independent from America and will fight for their right to sovereignty!! Do you really think that American Government will allow any such move? Nah! Instead, they will try to take arms back from every individual, they think can pose a problem in future. That's where I see a need (from American Government perspective, not my own) to impose Martial law in a state and take arms back from the Americans, shoot at them and kill them. Actually, it has happened in American history. I don't think I need to detail that period here.

• United States
10 Feb 08
You made many things clear. As many Americans, I am very confused....anything can happen...

• United States
9 Feb 08
From what I understand they've always quizzed our troops on this subject. It's part of standard training to see if they'd properly follow orders & be ready should the need arise. Now someone has blown it up & exagerated it into a whole conspiracy. The whole training pastors thing is a complete crock. Total BS

• United States
9 Feb 08
I am not saying it is true or not true...I just keep my eye open. For so many years our government denied Area 51 and finally confirmed under citizens pressure... The are so many regulations in army that we don't know. And it looks like they don't have to respond to citizens, but government only...

• Australia
10 Feb 08
This is amazing. Where is America heading?

• United States
10 Feb 08
It makes me said. I am looking into new election, if nothing change, maybe I will search for international location to move...

• Australia
10 Feb 08
All the news we here from America is depressing. I wouldn't blame citizens wanting to leave.

• United States
10 Feb 08
I will not attack you on this. I am a Marine and have been for 9 years now. You could ask me this and I would tell you yes and no. The biggest thing here is, are they trying to kill me? If they are then yes I would shoot them. Other than that no I would not.

• United States
10 Feb 08
thank you for your honesty...

• United States
24 May 08
The blog link you posted has been removed. Figures. I am not surprised, it's not the first time our troops have been asked if they would kill our citizens and I'm sure it won't be the last. Never forget Kent State!!! They can't kill us all, we are the country. United we stand divided we fall!

• United States
25 May 08
Kent State? yes, hard not to remember. I am counting days of Bush admin.America is not the same now as it used to be.

• Canada
22 May 08
It really sucks, what is going on in the USA with the goverment. Whatever happened to the country being ruled by the people and for the people? Now the country is being ruled by and for the corporations!!!

• United States
23 May 08
I agree. Very good question, I wish to know what happened...


• Dhaka, Bangladesh
17 Jan 13
Hi Pola, How are you and your family? Once you were my mylot friends and I was out of Mylot for long because my account was blocked for violation of Mylot rules. It is a dangerous issue that police would shoot without trial. It is violation of human rights. In one of the best democratic country, it is not fair that police will shoot people without trial. In that case innocent people may be affected. Have a very nic3e day.