Go leafs go!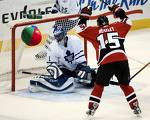 February 11, 2008 5:51pm CST
Does anybody want to talk about the way the Toronto maple leafs are playing this year? I think they're horrible. And the worst thing about them is that they don't even know how to lose probably. I'm hoping for last place, but they'll probably make the playoffs in 8th place, the worst possible scenario.
1 response

•
12 Feb 08
I love the leafs and live in Toronto and represent my team with passion. Its sad this year i have a feeling there not going to make it to the playoffs this year. However if the don't im going for montreal !