Indian Bowling Attack:: Do u think youngsters are adding to its strength??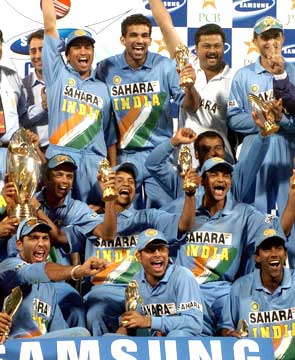 India
February 12, 2008 5:49am CST
Hello Friends.. I put up this question for all those cricket lovers and especially for those who love to see India win..In the absence of experienced Indian bowlers like Zaheer Khan.. do you think India can put up to the expectations of cricket fans..India always prefer to play with an extra batsman rather than an extra bowler..and everytime India lose they blame the Indian batsmen ..for not performing well.. Its once in a blue moon that Indian bowlers do well.. Even Mahnedra Singh Dhoni seems to blame the consequences everytime .. Sreesaanth in particular has always been taken away for runs.. So what do you think?? What should India focus on:: bowling or batting?
6 responses

• India
13 Feb 08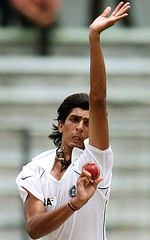 India's new firing bowler. he is the best swinger as of now he is troubling the batsmens like the ponting & sysmonds& hayden. sreesanth is also best swinger with the pace. he gets the runs but, he is the wicket taker for india. he has to just find his rythm. india is best fast bowling side i guess Now!!!

• India
13 Feb 08
well you seem to have over confidence in the Indian bowling.. Anyway its your opinion.. I dont think India's bowling attack has become the best .. they find it hard to defend a small total.. Even in the following match btw india and sri lanka .. Dhoni blamed the D/L rule for their lose..anyway i still hope it goes better and better

• India
17 Feb 08
In the bowling department youngsters r doing well.But in the case of batting Rohit and Gambhir r doing well.

• India
23 Feb 08
The pace trio of Ishanth,Pathan and Sreesanth.Ishanth is performing very well.Ishanth also bowls very good bowls to left handers.IN IPL he is representing the kolkatha team captained by Sourav Ganguly and owned by Shahrukh Khan.His bowling to Ponting in the third test was superb.He also got his wicket caught at the slip.He has all the capabilities to become a world class bowler.He had already dismissed greatest batmen like jayasuriya,Symonds and Ponting.He should take responsibility of strike bowler of India.He has some difficulties with no balls .He should rectify it quickly by consulting with the bowling coach Venkatesh Prasad.He can also bat a bit.He had a wonderful partnership with sachin ,when he got 24 runs and sachin made 154 runs.He should keep good fitness level to play in the team for long and to be consistent.Kolkata team bought Ishanth for 3.8 crores.His value is higher than Superfast bowler Bret Lee.Cricket experts r very much impressed with Ishanth. ALL THE BEST to him .

• India
13 Feb 08
The youngsters no doubt have lots of talent. What they need is lots of guidance, discipline and consistence. They are inexperienced and cannot adapt to some situations. They have a great future and it is important that their talent gets nurtured. There also needs to be a balance of experience and youth which at the moment India is struggling with.

• India
13 Feb 08
ya.. i completely agree with your point of view..they should strink a rt balance btw experience and youth.. and i think that they must be missing the presence of Zaheer Khan in special at the moment.. Well i hope that they learn as they get more and more exposed to this form of game..


• India
13 Feb 08
Well i think that ladies find cricket a little uninteresting to be involved in the discussion..So i hope you are in the latter group...


• India
17 Feb 08
DO you really think so.. Okay i can agree to some extent that Indian bowling has been performing well..bu bowling alone does not help win matches.. Anyway i still hope India wins the current series.. they have been struggling to score runs...

• India
12 Feb 08
yes Youngsters are adding more bench strength to bowling lineup