Craziest Thing You Have Ever Done as a Result of Losing a Bet?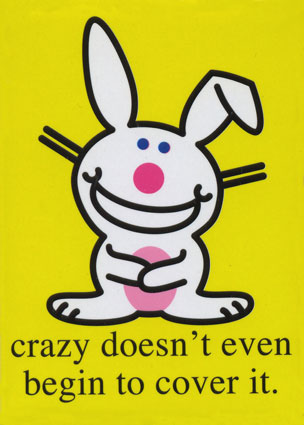 United States
February 12, 2008 10:07am CST
Early in my 20's I had an offbeat, rowdy, crazy girlfriend, who loved to play practical jokes on anyone and everyone she knew. She was always trying to pull me into one or the other of her schemes. She and I did have a game we played between us and that was making bets or wagers about all kinds of things. The length of a relationship of other friends, whether or not a person was gay, which one of us would be hit on first that kind of thing. The most embarrassing thing I had to do as a result of one of my loses is that I had to get up in a karaoke grill and bar and sing. Now if you knew me at all you would know that the money my mother gave me for singing lessons I squandered on wagers LMAO. That was as traumatic as it gets for me. I tried to sing the Debbie Boone song "You light up my life". My knees were knocking, people could visibly see me shaking and my voice would not come out more then a squeal. Thank goodness that people were kind and I did not get pelted with fruit and vegetables. I was real careful what we bet on from there on out. So what is the craziest thing you have ever done on losing a bet? Maybe you have a friend you watched have to perform a pay up? Maybe the pay up was to you?
7 responses

• United States
12 Feb 08
This is a good discussion and a funny one! :) I was a bartender in Seattle for a long time and Mardi Gras is celebrated huge out there as well. I was working it a few years back- the year before the infamous riots, and I made a bet with another bartender than I could pour 5 drinks faster than she could, a little girl on girl competition. The loser had to tend bar the rest of the night with no shirt..only a heap of Mardi Gras beads. Back then we had no kids and so sagginess wasn't an issue. :) Anyway, I lost and had to tend bar that way that night. It was actually pretty hilarious, I had so many beads on that noone could see anything until they would pay for their drink and saw my whole back when I turned around to put the money in the register. Needless to say, I made a bunch of money and got lots of "ballsy" comments! Oh to be young and stupid again! :)

• United States
12 Feb 08
Chick that is hilarious :)) Oh yes we do seem to lose our (balls) as we get older don't we. Then the marbles start going and we know we are in big trouble.

•
12 Feb 08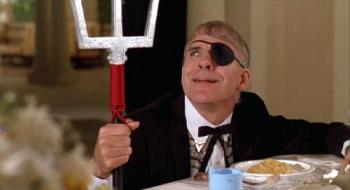 i guess the worst thing i had to do was really bad taste. we had been drinking and watching 'dirty rotten scoundrals'. i had to get into a lift and become the part steve allen plays as the retarded brother. i did rather a good job if i say so myself and had to wash the saliva of my lapel.

• United States
12 Feb 08
ROFLMAO, Xboxboy! And btw, it's Steve Martin, not Steve Allen. Steve Allen was an old time tv personality, songwriter and actor. the picture you put up is great - I happen to be a huge Steve Martin fan and I think that pretty much everything he does is funny. The Jerk is one of my favorites! "I need this chair, I really need this chair" and "boy, somebody really hates these cans"! sorry, if you haven't seen it, then what I just said makes no sense at all. It probably makes no sense anyway! I would love to have seen you as that character, wiping the saliva off of your lapels - I'll bet you're really good at drooling! lololol

• United States
12 Feb 08
Yup, all classics! But you really must see "The Jerk" - you'd love it, I'm sure. Hey, what did you think of his recent one, The Shopgirl? I thought it sucked.

• United States
12 Feb 08
I adore Steve Martin myself. One of my favorites is the one with Goldie Hawn, House sitter, aww heck actually he has many that I adore. I have not seen The shop Girl yet. Xboy I bet you spit really good on your lapels :)))


• United States
12 Feb 08
Great story about the Karoake, Angel. Geez, when I'm around karaoke, you have to pry the microphone out of my hand. I love to sing! And I mean, I LOVE to! I sing all the time, at home, at work, when I'm on my bike, at the bar, all the time, I tell you! But I don't make wagers! Well, rarely, anyway. The one I did make was many, many years ago, when I was working for a concert promoter, when I was in my twenties. I did a lot of really crazy things back then, and this was certainly one of them. My friend made a wager with me, or it was a truth or dare thing or something, I can't remember, but it ended with me getting up on stage (of course) for, ready for this?, a wet T-shirt contest! Well, I got up there and gyrated for all my might, water being sprayed all over me and let me tell you, it was a very revealing, um, night! I didn't win the contest, though, and that's the really funny part. One of the judges told me that it was for amateurs and that I looked way to professional!!!! HA! I looked professional???? I had never done anything like that - I certainly was FAR from being professional. What a hoot! Geez, I was too sexed up even then! Can you even imagine?

• United States
12 Feb 08
rotflmao my eyes popped when I read professional... So you deny that you are a professional Hussy? What a hoot.... Oh wait it was hooters... LMAO I bet you were a sight Nova. No I can't sing in front of people. I tried a couple of times when I was a girl in church, I always ended up in tears and had to walk off the podium. Now I sing to the grand babies and my animals. I sing with the head phones on... My 13 year could tell you about that LMAO. But not in front of strangers. I can see you doing Karaoke.

• United States
12 Feb 08
That's funny - hey, I just found out that there is internet karoake! I found out from Pammid - I had no idea! So - hubby's been talking about getting a new computer, which we need desperately, btw, and I told him that I want one that has a microphone built in or whatever, so I can do karoake on the net! Can you imagine? I can't wait, it's gonna be so fun. I'll get on there and sing my favorite karoake songs and I'll let you guys know where to find it and you can listen and type some major laughter into your responses! Pyewacket has done it - I've listened to her on there. It's so great - what an idea! Geez, an even greater dimension to this thing! What a concept!

• United States
12 Feb 08
rotflmao I can't wait. Yes I have listened to the whimsical Pye myself... She is quite a character.


• United States
25 Feb 08
hmmmmm I was still in highschool at the time and I lost a bet and payment for that bet was to run around outside my friends house in my undies and bra. LOL!!! I think that is why to this day I'm not a big better. LOL!!I gamble at nothing and leave nothing for gambling purposes.

• United States
25 Feb 08
Bella there are alot of things in my high school years that I did that truly make me think of better behavior as an adult LMAO

• United States
27 Feb 08
I know what you mean .. LOL!!

• Canada
13 Feb 08
As a painfully shy person i do not make bets that i wouldnt want to fullfill if i loose!! lol i am not a gamblin kinda gal i guess!! lol. Sorry angel, I dont have any fun stories for you on this one.. lol i've only even been in a casino once!

• United States
13 Feb 08
My My Sissy, after this baby is born, the Ya Ya's have to do something about this shyness of yours. :)))

• United States
13 Feb 08
The bet that I lost was while I was in the army. There is a cannon that is set off every morning using just gunpowder. I had to fill the barrel with golf balls and aim it towards the Generals house which I did. Well when the cannon went off it broke every window in his house that was on that side of the house. I was lucky and did not get caught or even become a suspect. It was the talk of the Fort for many months. Yes that general was never well liked so they did not try too hard to find out who did it.

• United States
13 Feb 08
Oh my what a sneaky thing for your buddies to have put you up to. What kind of trouble might have happened if the Army did find out who did it? Would it have been like a misdemeanor and a slap on the hand or would it have affected your career? Nice job at any rate :))

•
13 Feb 08
Ermmmm when I was a lot slimmer and younger I used to wear Very short skirts and the guys in the pub where I work were always asking for things that i would either have to bend over for or reach really high for and it was quite funny! One day I 'lost' a bet (little did they know I did it on purpose) and the result was I had to remove my very short skirt in the middle of the pub! It was hilarious as their eyes just about popped out of their heads as I undid the button, slowly unzipped it and held it in place for a few seconds. You could actually see them thinking that I was really going to do it and a couple of tongues were actually hanging out so then I dropped my skirt and a groan went up from the men. Can you guess why? No I didn't have a male menber (I am all woman) but I had on a pair of hotpants - you know those shorts - as if I would go around with a skirt that short without protecting my modesty! lol I was so scared though as one of the older men started having chest pains and sweating a lot - luckily it was just indigestion and not the heart attack I feared I had caused! lol That story is still told in the pub today and it happened more than 11 years ago! xxxx

• United States
13 Feb 08
Oh Goodness LMAO we don't want to kill the poor fellas now do we? I am so glad you turned out to be female MummyMo that would have destroyed my illusions I hold of you :)) Great Job :)))