What's causing this to wear away?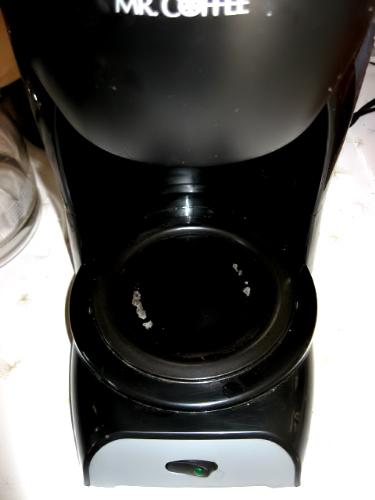 United States
February 14, 2008 12:58pm CST
Okay I have a Mr.Coffee auto drip coffee maker. Now as you can see in the attatched photo the warming plate has worn out spots. The machine is just over a year old. It does get used a lot in this house making maybe 5 to 10 pots a day. Now the question I have is what causes this to wear away like it shows? Is there any way to repair this as the pot seemas to stick to the worn out areas a lot as well. The glass pot also has the stuff on it ever so often. Is there a remedy? Is there something I am doing that I shouldn't be? HAHAHA! it bugs me as I don't want to buy another but the worn out area gets a lot hotter than the covered area. Please help? Thanks in advance all. HAPPY POSTINGS FROM GRANDPA BOB!!~
8 responses

• United States
14 Feb 08
I don't have a remedy for your situation. But goodness, you make 5-10 pots of coffee a day! I work in an office with about 40 staff and we don't even come close to making 5 pots of coffee a day! That's a lot of coffee!

• United States
14 Feb 08
Ever since I soberedup I started to drink a lot of coffee. I mean a L O T !!! At least a few pots a day on average. it's now 2:30 and I am now on my 3rd pot today. The wife had one cup and dad had 2 only. HAHAHA!! HAPPY POSTINGS FROM GRANDPA BOB !!~

• United States
14 Feb 08
I have a west bend slow cooker, the pot sits on a warming plate similar to this. The same thing is happening to the griddle part of it. I think it happens when the bottom gets wet and then is set on the base. Then it sticks to it and pulls off the teflon or whatever is used to coat the base. It is sort of flaky, I keep on using my slow cooker, I have tried to make sure the bottom is dry before I put it on the base, that does seem to help. My pot of my cooker is metal so I don't have any worries about it getting too hot. You can always write to Mr. Coffee and see if others have problems, maybe they will send you a new one. You have to becareful with the glass coffee pot, you don't want that to break.

• United States
14 Feb 08
Now I just have to make sure my wife wipes up any spills on the plate. She is great at making spills and leaving them sit forever. Thanks also. I may call the toll free number. maybe they'll send me a free maker? HAH! Yeah right. Probably a free can of coffee though, maybe. HAPPY POSTINGS FROM GRANDPA BOB !!~

• United States
14 Feb 08
Well I'm certainly not an expert but I'll take a stab at this. My guess is that those particular spots tend to get the hottest, and when materials get hot they tend weaken and are more susceptible to wear. In this case the wear is caused by the frequent moving/removal/replacing of the decanter (the glass pot). As far as the fixing in order to prevent sticking, I'd clean off the bottom of the glass pot completely and then just place a piece of aluminum foil over the warming plate. -Tink

• United States
14 Feb 08
I should also add that drippage, either of coffee or water or both will of course end up on the plate and bottom of the bot and these can create sticky, or rough spots to add to the wear and tear.

• United States
14 Feb 08
Sounds logical to me. I'll try the foil routine. there is a lot of drippage from my wife. I always wipe the burner and pot off after each time I pour a cup. So I'll have to chew the wife out about spilling and not wiping it up. Like that's going to work. HAHAHA! Thanks bunches. HAPPY POSTINGS FROM GRANDPA BOB !!~

• United States
14 Feb 08
Heres an idea give up coffee......wait never mind ive seen you guys without coffee dont do it.

• United States
26 Feb 08
Again my humor gets me best response yippee. You just know if it was reversed its the exact thing you would have said.

• United States
15 Feb 08
The lower quality the coffee maker the faster the warming plate wears out. I probably replace our house hold coffee maker once a year or so. I have had coffee makers from the $12 range through the $65 end, and frankly the cheaper ones the warming plate gets worn off faster. We generally make a pot to two pots a day, and with the cheaper pots they tend to go faster, either the warming plate, or the brewing part. The more expensive coffee pots last for a year sometimes two, before something breaks on them. I do prefer and find that peculators last longer and generally taste better. I use mine a couple times a week now, alternating with my normal drip brewer. There is no repairing coffee makers unless you want to spend an arm and a leg. It is cheaper to just replace it.

• United States
14 Feb 08
Well what I do is clean the part where the water goes by putting a little vinger in the water and let it run though and throw this water away. it gets the minteral deposits out of the pot and the water tank. The warmer wears out because of coffee dripping on it as far as I know.It has happened to me before.

• United States
28 Feb 08
5-10 pots a day? eesh! Grandpa Bob, you don't need a coffee maker, you need one of those coffee machines that they use at gas stations and such that brews over 30 cups at a time. lol Are you sure the spots are worn and not burnt coffee? We used to have a coffee maker with a pot and it would drip a few drops onto the burner plate and burn up. Usually putting a wet rag on it while the plate is still warm for a few minutes soften it enough to wipe away. Otherwise, sounds like you need a new coffee maker. I have one that is potless. It dispenses however amount you want from a resevoir. I love it! No more drips or spills and it stays piping hot for 2hrs. b4 it shuts itself off.

• United States
19 Feb 08
my mother's has spots like this on it. i think it may be from where water drips from the pot onto the hot plate and scalds it underneath the carafe.that's the only thing i think it could be,because the machine she had condensates all the time.